Sandy may deter storm victims from voting and extend US election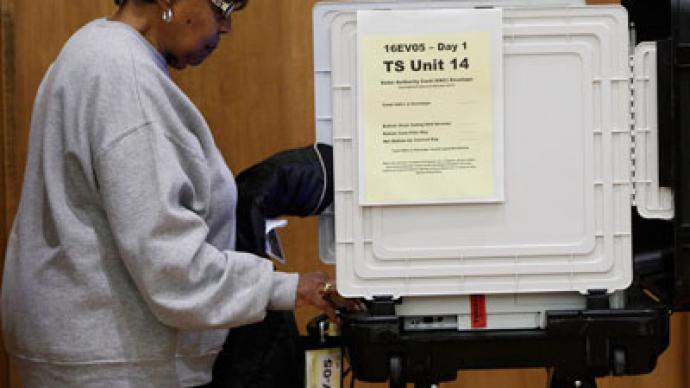 Regions of the East Coast, left powerless by Hurricane Sandy, could face lagging voter turnout that may affect the results of the US presidential election. As states scramble to gather voting resources, the election could be delayed by nearly three weeks.
Hurricane Sandy, which left millions without power and more than 100 dead, has cost the US billions of dollars in damage. But its effects have been further reaching. Aptly named Frankenstorm, is creeping its way into the presidential election, affecting voting stations and voter turnout throughout the East Coast. In New York, voter turnout is typically 60 percent – but widespread destruction by the East Coast Frankenstorm is expected to deter those living in severely affected areas from showing up at polling booths this Tuesday. With power outages leaving polling stations dysfunctional and susceptible to error, absentee ballots arriving well past Election Day due to postal delays and early voting cancellations making it harder for some to cast their ballots, the lagging voter turnout in blue-state regions could have a drastic impact on the election.While New York and New Jersey have been hardest hit, other East Coast states are also suffering from the effects of the storm. In Pennsylvania, 300 polling stations were still in the dark on Friday – many in Bucks County, where 50,000 people are without power. Connecticut Secretary of State Denise Merrill told WCBS 880 on Thursday that a significant number of polling stations were still out of power."At this point, it looks like there are probably between 70 and 100 of our polling places still non-functional without power, but we're hoping to have them up and running by Monday," he said. "The problem is you have to make a decision at some point whether you're going to move the polling place somewhere else, which is a fairly drastic solution because it creates so much confusion."With just a few days before the election, taking the risk and hoping for power to return is not the most reliable plan of action. Some regions have turned to temporary voting stations – including the backs of military trucks and tents – to ensure more residents have the option to cast their ballots.
Early voting cancellations may have reduced potential voter turnout
Hurricane Sandy has caused numerous states to cancel or delay early voting, making it tougher for those who are unable to go to the polling booths on Election Day. As the storm gradually approached the state of Maryland, Gov. Martin O'Malley cancelled early voting, which was set to begin on Oct. 29. Early voting did not resume until that Wednesday, two days after it had initially been planned to begin. In New York and New Jersey, early in-person voting is not allowed – a procedure that could have eased the chaos anticipated when storm-affected Americans attempt to cast their ballots at the limited number of sites that have power on Tuesday.Early voting was beneficial to those who cast their ballots before the storm and predicted the resulting devastation."They come in and say, 'I'm voting now because we're getting ready to evacuate,'" Kay Hickman, president of Maryland's Worcester County Board of Elections, told the Washington Post on the Sunday before the storm. The polling stations were so busy on the weekend before the storm near Ocean City, MD that poll workers ran out of "I Voted" stickers.But not many were fortunate enough to vote before the post-storm worries sunk in. Early voting cancellations and prohibitions across the East Coast have put more pressure – and fears of lagging voter turnout – on those who have no choice but to vote on Election Day itself.
Widespread power outages pose problems for electronic voting machines
Widespread power outages across New York and New Jersey have not only affected residents who are left in the dark, but will likely also have an impact on the vote. Voting machines located in areas without electricity may rely on batteries – which could run out."No power means that (vote machines) will operate as long as their batteries last," said Thad Hall, a University of Utah political scientist and researcher for the Voting Technology Project. "It also means that voters voting on paper ballots will not have the use of scanners to identify errors on their ballots."With a perhaps increased number of voters submitting paper ballots, there would likely also be an increase in errors and a higher potential for fraud."Modern technology can make it easier to confirm legitimate voters and also catch those who are trying to vote illegally," Hall said, adding that electronic systems have also prevented thousands of voter errors.To make up for the loss of voting stations in areas heavily afflicted by the storm, the government is bringing in additional resources. Some New Jersey voters will be able to submit their ballots in military trucks provided by the Department of Defense, complete with "well-situated national guardsman and a big sign saying, 'Vote Here,'" the New York Times reported. In Union County, NJ, half of all voting sites were out of power – making additional resources crucial. Throughout the state, 1.6 million people were still out of power Thursday night. Meanwhile, New York City plans to set up tents that will serve as voting stations in some of the hardest-hit areas.City officials are also planning to place generators at polling sites – but New York State Board of Elections spokesman Tom Connolly said there will not be enough of these to go around. "It's not like we have an unlimited supply of generators," he told CBS.
Voting may be extended by up to 20 days
Postal delays due to the storm have caused mail transportation to slow drastically – especially in New York. The delays have caused trouble for those voting via absentee ballot, forcing state officials to extend the voting deadlines for snail mail.New York state has moved the deadline for absentee ballots to 13 days after the Nov. 6 election – as long as the ballots are postmarked no later than Nov. 5. The date to request absentee ballots was also extended from last Tuesday to Friday.New Jersey is now also allowing voters displaced by the storm to submit their ballots via e-mail or fax, employing the same method that designated overseas voters, including military officials, use.Online voting comes with a number of risks that most countries choose not to take. Estonia has allowed online voting for all of its citizens since 2007 – a procedure which one in four of the country's voters took advantage of. Canada has experimented with online voting in municipal elections and Sweden, Latvia and Switzerland have also tested the procedure. But due to the risks involved, it is not a voting method the US hoped to implement this election.This type of voting greatly increases the opportunity for fraud and internet security may be of concern for personal computers that could be infected with viruses.But in a state devastated by the hurricane, some think the risk may be worth it. Voter fraud is not expected to be a problem in New Jersey, since Obama is leading by 10 points in a state that is expected to vote blue. In an attempt to have a more secure vote, those who opt for electronic voting will be required to waive their right to privacy, since election officials will have to look up the name printed on the ballot to make sure it is not a duplicate. New York state law also allows counties to request a second day of voting if voter turnout was less than 25 percent "as the direct consequence" of a disaster like Hurricane Sandy. According to State Board of Elections spokesman John Conklin, the commissioners – which consist of two Democrats and two Republicans – have 20 days to schedule a second day of voting, thereby making it possible for the election to be extended by almost three weeks.This law has never before been used and while voting officials doubt that it will be used for this election, the option remains open if turnout drastically suffers.
Hardest-hit areas may lose significant number of blue voters
The wide-ranging devastation inflicted by the hurricane has caused Obama supporters to fear that the president may lose crucial votes in states that normally vote Democrat. In 2008, Obama won the vote from the majority of the states that are now suffering in the aftermath of Sandy, including North Carolina, Pennsylvania, Maryland, Delaware, New Jersey, New York, Connecticut, and Rhode Island. Storm victims who have lost their homes, power and are unable to refuel their cars during the gas shortage may opt out of voting during this election, thus taking away some of the president's support.Gallup reported on Oct. 29 that more Republicans (19 percent) have submitted their ballots early than Democrats (15 percent). Areas most affected by the storm, which include coastal areas of New York and New Jersey, will likely lose voters that typically vote Democratic.  According to Policy Mic, an estimated 5 to 10 million Americans will not vote this year due to the hurricane's devastation.In Bucks County, Pennsylvania, 50,000 people are without power. Throughout the state, 300 polling booths are still in the dark – many in Bucks County – a region that has proven crucial for securing the Presidency. The county was once a Republican stronghold but has since become more Democratic, voting for Obama in 2008. In order to win Pennsylvania, Romney needs to win this county, according to an analysis by Mother Jones."Sandy has the potential to reduce Obama's national popular vote share by depressing turnout in highly Democratic areas along the Eastern Seabord," Dr. Michael McDonald of George Mason University told NBC. Mason believes the state's predicted Electoral College outcome will remain unchanged, but that the lagging voter turnout will make it a very tight election.An NBC analysis predicts that Obama could lose as many as 340,000 votes as a result of Hurricane Sandy – votes that would not turn the historically blue states red, but would still make a dent in the numbers.With parts of the New York subway shut down, six-hour lines for rationed amounts of gasoline, power outages and destroyed homes, Americans in the hardest-hit areas may find themselves either unable to commute to a polling station, or unwilling to do so during a time where they find themselves consumed by their own losses.Some have taken to Twitter to express their frustration with the timing of the election, just one week after Sandy flooded the US."I wish Election Day can be postponed! So many (people without) food, gas, power, phones, transportation, homes. I mean really, how (are) they voting Sandy!" read a tweet by New Yorker @SheaDva."With so much on the minds of Americans re: Sandy recovery, it's hard to imagine we'll be voting for our next president in just 3 days," tweeted @mhess4.
You can share this story on social media: