LAPD clashes with Occupy protesters at Art Walk, 19 arrested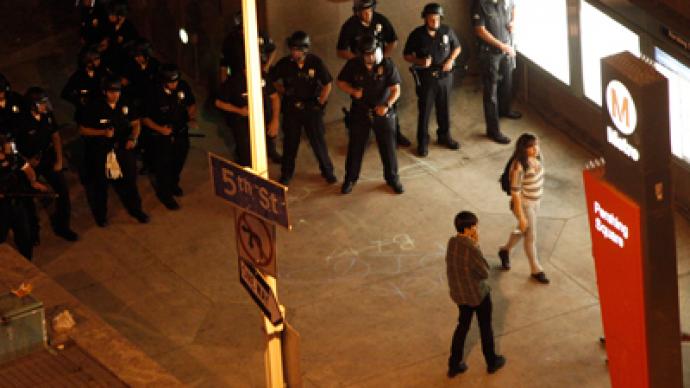 Police have clashed with crowds in downtown Los Angeles, where the monthly Art Walk event was being held. Officials say 4 policemen were treated for minor injuries.
The Los Angeles Times said 19 people have been arrested after a skirmish, according to local authorities.The otherwise peaceful party night apparently turned violent, as police wearing riot gear tried to disperse members of the Occupy movement. Some 200 Occupiers joined the festivities and were writing protest slogans in chalk.The LA Times also cites witnesses as saying the protesters were yelling expletives about police. Drawings of pigs with the words "kill cops" were reportedly chalked on the ground.Tweets on the @OccupyLA Twitter account say that the gathering remained calm before the riot police moved it. One claims: "A girl was drawing hopscotch. A guy next to her wrote 'I want peace.' The next thing, they started arresting people," the poster said.Bottles and rocks were reportedly thrown at officers, wounding one policewoman. Police dispersed the crowds with non-lethal pepper pellets.
You can share this story on social media: