NYPD agent arrested for biker beating spied on Occupy activists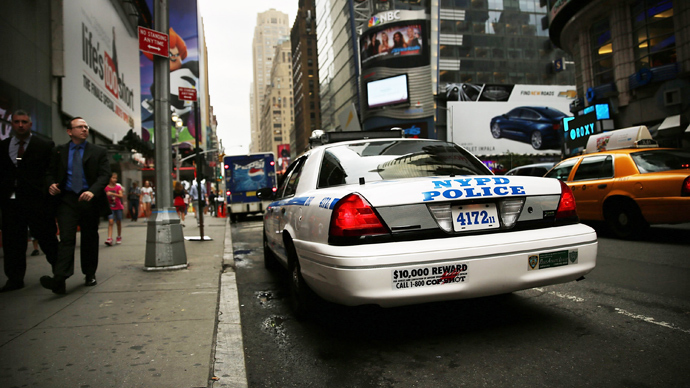 A NYPD cop arrested in connection with the violent biker brawl last month in Manhattan reportedly worked as an undercover officer and tried to infiltrate the Occupy movement and the activism community that supported Anonymous hacktivist Jeremy Hammond.
Officer Wojciech Braszczok, 32, was arrested this week for his alleged role in the Sept. 29 beating of a sport utility vehicle driver on the West Side of Manhattan. Video of the incident was captured live from the scene showing a parade of bikers assaulting the SUV driver after a minor fender bender between his truck and a motorcycle, and the subsequent media coverage has caused the video to go viral and catapulted the story to becoming one of the most discussed events in recent weeks.
The New York Times confirmed on Tuesday that Braszczok was arrested that evening and charged with rioting and criminal mischief, though more counts could be added in the future. As news reports circulate about his role within the NYPD, however, the officer has been accused by numerous sources as posing as an Occupy Wall Street activist during the course of the anti-capitalist movement that spawned a wave of peaceful protests around the world during the last two years.
According to prosecutors, Braszczok acted anything but peacefully when he allegedly attacked the SUV driver last month while the victim's wife and 2-year-old daughter watched in horror. The Associated Press has since reported that they have received video evidence showing Braszczok punching and kicking the vehicle.
NBC reported that Braszczok originally came forward last week and admitted to being present at the Sept. 29 attack, but it's not yet clear what capacity he was working at when he allegedly engaged himself in the assault.
On Wednesday, a law enforcement official told NBC News on condition of anonymity that Braszczok spent the last five years of his decade-long stint with the NYPD as an undercover officer, including a period of time working closely within the Occupy movement.
According to NBC's source, Braszczok "attended meetings and essentially lived like a protester to provide information to the NYPD."
Early Wednesday, several New Yorkers began discussing over social media still unconfirmed reports that Braszczok was the same supposed Occupy activist who occasionally posted online using the Twitter handle "Evovillen" and identified himself at gatherings as "Al."
That Twitter account, though active since 2010, includes a handful of tweets related to demonstrations that occurred in New York City since the start of the Occupy movement in September 2011.
"Come join us in spring training by occupying the stock exchange today at 2:30pm. Hope to see you there," Evovillen wrote April 6, 2012. Later that year in November, Evovillen — whose profile name appears as "Fastest"— asked for information about an Occupy general assembly in Lower Manhattan.

Come join us in spring training by occupying the stock exchange today at 2:30pm. Hope to see you there

— Fastest (@evovillen) April 6, 2012
The Evovillen Twitter account only follows 34 other users, and half of those persons boast openly on their social media profiles about being aligned with the Occupy movement.
Evovillen only tweeted three times in 2013, but one of those messages advertised a "noise demo" at 500 Pearl Street, the location of the US District Court for the Southern District of New York. A rally for imprisoned Anonymous hacker and activist Jeremy Hammond occurred that same day at the scene,. Hammond, 28, is currently awaiting sentencing for his admitted role in hacking law enforcement websites and pilfering email from Texas-based intelligence firm Strategic Forecasting, or Stratfor, that was later handed over to WikiLeaks and published online. 

Noise demo 500 pearl st, ny ny, we need more ppl. So come by

— Fastest (@evovillen) April 10, 2013

Jeremy Hammond is still in here and I hate that fact. Photo from April 9, 2013 #FreeHammondhttp://t.co/mBn5Q7ChIN

— protected computer (@small_affair) June 25, 2013
A cursory Google search for the "Evovillen" screen name returned the SinglesBee.com dating profile for a 32-year-old man from Ridgewood — a neighborhood in Queens, NY — who categorizes his occupation as being covered by the option "fire, law enforcement and security."
Another forum — StreetEasy.com — contains messages posted by an "Evovillen," who three years ago told other users "I'm a cop" that had previously patrolled Long Island City, New York. A MyLife.com page exists for a 32-year-old Wojciech Braszczok that lived in Long Island City at one point, as well as Ridgewood.
An "Evovillen" on the Evolitionm.net Mitsubishi Enthusiasts Network claims to be from New York City, and the person behind the same screen name told members of a Yamaha R1 Forum in 2009 that he owned an open class spot bike made by the company not unlike the ones captured on the Sept. 29 video.
Now as pieces of the puzzle continue to fall into place, Occupiers are raising new questions about the NYPD's already peculiar involvement in OWS, a two-year-old movement marred by a series of violent incidents between police officers and protesters that worsened tensions among demonstrators who largely opposed the surveillance tactics utilized by the NYPD that had been previously discovered. Mysterious surveillance trucks circled Lower Manhattan at the height of the movement, and the America Civil Liberties Union at one point petitioned the city of New York to remove closed-circuit television cameras posted directly on top of the Occupy encamp at Zuccotti Park.
Activists on Wednesday circulated a number of photos purported to be of an alleged Occupier who reportedly identified himself within the community as "Al." An "Evovillen" Instagram account is registered to an "Al Mal," and contains self-portraits similar to the avatar used by the "Evovillen" Twitter account. 

Another source has sent me this photo alleged to be @evovillenpic.twitter.com/u4ZJBR65oV

— Art Superheroes (@WikileaksTruck) October 9, 2013

@WikileaksTruck Is this him side on? from evovillen (Albert Mal.) 's Instagram pic.twitter.com/jGww4vZ1Dc

— Almaz (@Almaz001) October 9, 2013
@WikileaksTruck heres another - small tho, pic.twitter.com/lUbwPvTs9I

— Almaz (@Almaz001) October 9, 2013
@SeaNick_@LiamPhuckall@CarrieM213@WikileaksTruck@apblake found another pic of him at #s17 he's in the background pic.twitter.com/cX6sBCgM5B

— Shay Horse (@HuntedHorse) October 9, 2013
Further, an account registered to user "Evovillen" on the Photobucket image sharing site contains a number of photographs of a man who matches the description of "Al," as well as x-rated images of at least two unidentified women (NSFW).

Braszczok was in court in New York City Wednesday afternoon, and Daily Mail reporter Daniel Bates watched him exit the building and identified him as the same "activist" spotted by several occupiers as "Al." Bates also said Brasczcok's attorney warned "his life may be in danger" if his client was identified.

@shushugah@apblake@HuntedHorse@CarrieM213@WikileaksTruck@LiamPhuckall he was just in court. I saw him. It's him.

— daniel bates (@danielgbates) October 9, 2013

@shushugah@apblake@HuntedHorse@CarrieM213@WikileaksTruck@LiamPhuckall his defense said his life may be in danger if he is IDed, FYI.

— daniel bates (@danielgbates) October 9, 2013
You can share this story on social media: