NYPD deployed mysterious surveillance truck at OWS anniversary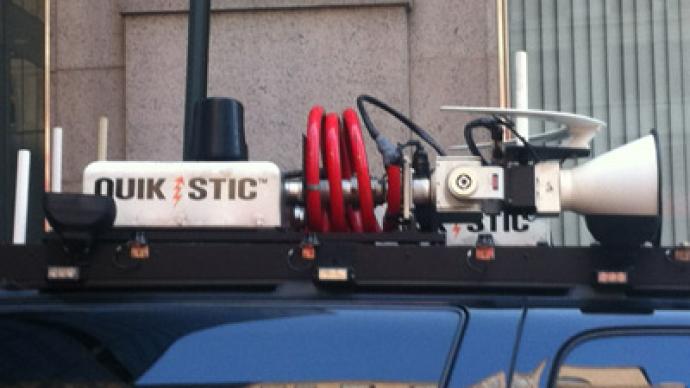 It's no secret that the NYPD regularly tracks movement across Manhattan using thousands of surveillance cameras installed on the island, but protesters at last week's Occupy Wall Street anniversary were in the presence of a whole new spy system.
Researchers with the PrivacySOS.org blog spotted an unusual get-up attached to a New York Police Department vehicle during the recent September 17 actions that commemorated Occupy's one-year anniversary. More than a week later, little remains known about unusual equipment assumed to be state-of-the-art surveillance technology previously used during presidential motorcades.According to the post published Wednesday to PrivacySOS, increased surveillance was evident in Lower Manhattan during the OWS anniversary in the form of watch towers and cameras affixed to poles atop unmarked police cars. At least one unmarked law enforcement vehicle was also equipped with a series of spooky gadgets and gizmos connected through heavy duty cables, resembling some sort of makeshift mobile surveillance station.In researching the items evident on the car, PrivacySOS says they include what appears to be an audio transmission or capturing took, a boomerang antenna to more rapidly transmit content and an additional sensor or camera. Shortly after the post was made, experts reached out to the site and suggested that the components also included microwave video and audio signals transmitters, which the blog describes as "capable of transmitting large quantities of video and audio data from IP networked surveillance cameras," which could easily include the thousands already in place across Manhattan.Although there are over 2,000 surveillance cameras across New York City, the administration of Mayor Michael Bloomberg and the New York Police Department came under fire last year for purposely singling out protesters at the start of the Occupy movement. On October 20, 2011, the American Civil Liberties Union wrote the NYPD and asked them to reconsider the location of two cameras that were aimed directly at Zuccotti Park, the Lower Manhattan park where Occupy was born one month earlier."At Zuccotti Park, there are at least two special cameras trained on the park and apparently recording activity at all times," the ACLU wrote, adding that the Police Department's Technical Assistance Response Unit (TARU) "are at the park and other locations and are conspicuously and routinely videotaping protest activity.""It appears to us that the Department's approach is basically to videotape all Occupy Wall Street activity. This type of surveillance substantially chills protest activity and is unlawful," the letter continued. This past July, NYPD Commissioner Ray Kelly unveiled a state-of-the-air Domain Awareness System to implement "technology deployed in public spaces as part of the counterterrorism program" of the NYPD, touted as being able to work in tandem with the closed-circuit television cameras (CCTVs) already used by the force, as well as license plate readers "and other domain awareness devices, as appropriate." When WikiLeaks released emails perpetrated to be stolen from the Stratfor private intelligence agency months later, it was revealed that New York City had previously cut a deal to implement a similar system by way of the TrapWire surveillance program in NYC.
You can share this story on social media: