Coast Guard reopens lower section of Mississippi River after oil spill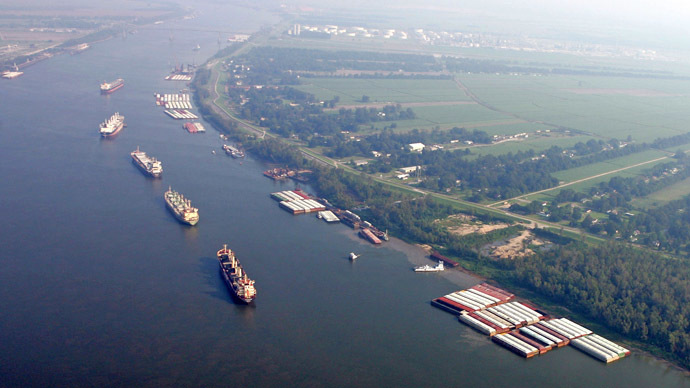 Most of a busy 65-mile stretch of the Mississippi River has been reopened after an oil spill, the result of a collision between a barge and a smaller vessel, forced its closure over the weekend to all water traffic.
As cleanup crews continue to work on the spill, the US Coast Guard said that approximately 31,500 gallons of light crude oil had leaked into the river. Speaking to the Associated Press, Coast Guard Petty Officer Bill Colclough said only a sheen of oil was reported after the collision near Vacherie, Louisiana, almost 50 miles away from New Orleans by land.
About 30 vessels were waiting to ass through the normally busy stretch when officials announced Monday afternoon that 40 of the 65 affected miles would be reopened.
Colclough added that no injures were reported as a result of the accident, all the barges involved had been secured, and that an investigation concerning the cause of the collision was underway. The Coast Guard said that no wildlife is known to have been impacted by the spill and that two cruise ships were allowed to pass through the otherwise closed waterway en route to the Gulf of Mexico.
"Cruise ships are generally given priority because their `cargo' is very valuable to all," one Coast Guard official wrote in an email to the AP. He wrote later: "And there are very few cruise ships as opposed to cargo ships."
The spill first began seeping into the river Saturday afternoon. when a tank barge being pushed by the towboat Hannah C. Settoon slammed into another towboat.
"Lightering operations on the damaged barge concluded early Sunday morning and the source of the spill was secured," the Coast Guard said in a press release before the travel ban was lifted Monday, according to United Press International. "Oil spill response vessels and recovery equipment are deployed in the river."
While the Coast Guard first deployed floating booms to prevent the oil from spreading, the Captain of the Port elected to shut down river traffic from mile marker 90 to mile marker 155 as a precaution, as well as "to avoid possible contamination of passing vessels." Flyovers were also employed in order to track the oil's movement.
The collision occurred after a barge carrying light crude oil – one of two on the river at the time – allegedly rear-ended a towboat that was moving grain barges out of the shipping lane. Any remaining oil had been transferred to the second barge, and Colclough said it's possible the responsible party will be assessed a financial penalty following the investigation.
Meanwhile, local officials stated that community water supplies remain safe to use. The water intakes in St. James Parish were reportedly protected by booms shortly after the crash and remained open as water plants tracked the situation. St. Charles Parish, meanwhile, closed its water intakes as a precaution.
You can share this story on social media: