Obama legalizes young undocumented immigrants
Published time: 15 Jun, 2012 16:07
Edited time: 15 Jun, 2012 22:33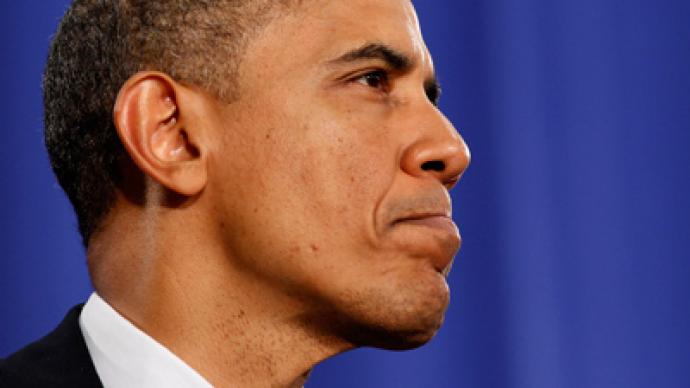 The White House has announced that the Obama administration will stop deporting some undocumented immigrants and will begin granting work permits to those that were brought to America at a young age.
Officials close with US President Barack Obama confirmed the change of policy to reporters early Friday; the commander-in-chief discussed the specifics of his plan during a televised press conference later in the afternoon.
Shortly after 2 p.m. on Friday, President Obama spoke from the White House rose garden to discuss how his latest initiative will effect America, especially the thousands of young, undocumented immigrants who were brought to the US as early as infancy.
"These are young people who study in our schools, play in our neighborhoods, friends with our kids, they pledge allegiance to our flag. They are Americans in their hearts and their minds in every single way but one: on paper," said the president.
"Today, deportation of criminals is up 80 percent. We've improved on that discretion carefully and thoughtfully. Well today were improving it again," he added.
"Effective immediately, the Department of Homeland Security is taking steps to lift the shadow of deportation from these young people. Over the next few months, eligible individuals who do not present a risk to national security or public safety will be able to request temporary relief from deportation proceedings and apply for work authorization."
"We are a better nation than one that expels young kids," said Obama.
During his brief address, Obama was interrupted twice by reporter identified by The Ticket as Neil Munroe. Upon finalizing his speech, the president returned to the White House without taking into questions from the media, although many cameras picked up the voices of witnesses who tried to ask the president to put the immigration issue into perspective when compared with rampant unemployment of US-born workers.
The latest news out of the White House is believed to directly affect as many as 800,000 undocumented immigrants, many who have lived in constant fear of expulsion as the issue of deportation has heavily divided American politics — so much so that the president is bypassing the US Congress to come through with his new initiatives. The president supported provisions under the 2010 DREAM Act that are mirrored under his administration's latest decision, although earlier attempts at immigration reform through past legislation failed in the US Senate.
"I said time and time and time again to Congress: send me the DREAM Act, put it on my desk and I will sign it right away," the president said Saturday. Although his legislation received widespread support from the left, Republican in the Senate halted the bill from ever being brought to the White House.
In a memo released early Friday, Homeland Security Secretary Janet Napolitano acknowledges that the immigration policy update seems only fair when compared to the way the country conducts other business.
"Our nation's immigration laws must be enforced in a firm and sensible manner," Napolitano writes, "But they are not designed to be blindly enforced without consideration given to the individual circumstances of each case. Nor are they designed to remove productive young people to countries where they may not have lived or even speak the language."
"Many of these young people have already contributed to our country in significant ways," the secretary adds. "Prosecutorial discretion, which is used in so many other areas, is especially justified here."
Specifically, the policy change will defer attempts of deportation at any current American residents, documented or not, that entered the United States before the age of 16, have continuously lived in the US for at least the last five years, are in school or have graduated school, have a relatively clean criminal record and are currently under the age of 30.
Earlier this year, President Obama told the Spanish-language television network Univision that he was still committed to immigration reform, a promise that had been largely unfilled despite being touted heavily on the campaign trail before Election Day 2008.
"I can promise that I will try to do it in the first year of my second term. I want to try this year," Obama told Univision's Al Punto program this April.
From the White House on Friday, Obama said that "there is still time for Congress to pass the DREAM Act this year" and insisted that "we still need to pass comprehensive immigration reform."