Obama's last State of the Union?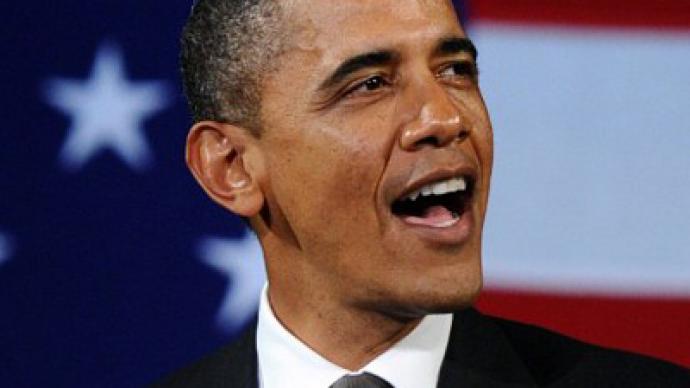 Pending the outcome of the presidential election in November, Tuesday night's State of the Union address could very well be Barack Obama's last.
From Washington, Obama will attempt to persuade Americans that he can make 2012 a good enough reason to warrant four more years.Whether or not President Obama paints a picture that makes him out to be the most electable candidate come November is up to how he uses Tuesday's speech to calm the worries of Americans. If history has any say, however, it will be an incredibly uphill battle for the president if he wants to win later this year.While the United States is experiencing one of the lowest levels of unemployment since Obama entered office, the US Labor Department still figures that close to 9 percent of America is without work. As positive of a number that might be for the president, it comes after months of unemployment statistics teetering close to 10 percent; and if history has any say, that unfortunate record will all but crush any chance Obama has at reelection. No president in recent time has been able to get an extra term after taking America through unemployment like it faces today, and while Obama will argue that he helped to bring unemployment down as of late, it only comes after months of conditions marred from the aftereffects of the last recession.After the State of the Union address, Obama will have barely nine months to convince Americans that whatever he has in mind for 2012 will come to fruition before Election Day. If he comes up short, however, that frustration could force even those within his own party to side with a Republican nominee.President Obama will almost certainly focus heavily on the state of the American economy on Tuesday, as unemployment, low income, rampant inequality and an increasing amount of foreclosures plagues the growing lower-class. The president will address these issues and offer up a solution that he hopes will earn him a second term. In the past, however, the solutions that Obama proposed more than often came and went unfulfilled. At the State of the Union in 2011, President Obama insisted on national unity and tried to bring together both sides of the aisle with pleas to keep the country as one. Only a year later, however, a rift has driven not just the Republicans largely apart from the Democrats, but even members of Obama's own party have become disenfranchised with his empty promises. As RT reported last week, some of Obama's biggest supporters, the Hollywood entertainment industry, have threatened to rescind support over Obama's opposition to the Stop Online Piracy Act, or SOPA. As evident in the growing Occupy Wall Street movement that has spread internationally over just a few months, that separation within the country is something that isn't just a partisan problem either. Outside of Washington, Americans are fed up with the sake of the country, and a year after he pleaded for a united United States, the state of the country suggests it got something completely the opposite. Also in 2011, Obama insisted that America was embarking on another "Sputnik moment" and the country should concentrate its know-how on scientific advancements that would secure superiority for further generations to come. Last January, Obama asked for funding to get "a level of research and development we haven't seen since the height of the space race." He proposed a freeze on annual domestic spending and said, as a result, America would experience discretionary spending on par with what America saw with Dwight Eisenhower administration of the 1950s.What America got, however, was a hole deeper than ever before. The US national debt now amounts to over $15 trillion, nearly a 60 percent increase since 2008. Congress has come close to shutting down in the last year and while Obama helped end the space shuttle program for NASA, federal funds went instead to such riveting research as analyzing the correlation between penis size and sexual health for gay males (around $900,000 left the National Institutes of Health and went towards funding similar studies).In past addresses, President Obama has also touched on immigration and education reform, yet three-quarters of the way through his presidency, he has done little to bring change to those issues. Instead, immigration repeatedly becomes a hotbed issue within individual states, who are left to settle the issue themselves, much to the chagrin of liberal lawmakers."Clearly as time goes on and a presidency matures you get less and less of it and the State of the Union becomes an aspiration for what you want to do as opposed to a road map for what you can accomplish," Princeton University historian Julian Zelizer tells the Associated Press. Zelizer adds that as Americans become less confident in what the commander-in-chief can accomplish, "You lose some of your power and you get closer to the next election and no one wants to work with you."If that trend continues, it won't just be the Senate and House that won't be willing to work with Obama. His job approval rating has severely waned throughout his administration, with his work receiving the highest level of disapproval only three months ago. America at large said in October that they had just as much trust in Obama in terms of helping the economy as they did with the Republican Party, and his highly-touted jobs plan — which has yet to materialize — was only supported by one-third of America, as per a September 2011 poll from Bloomberg News. Anti-administration sentiments have also swelled in recent weeks, particularly because of the president's inking of the National Defense Authorization Act, a legislation that allows the president to indefinitely detain and torture American citizens without ever bringing them to trial.Even if the president is able to provide a plan that both Democrats and Republican will find favorable for the American economy, a report out of Reuters last week revealed that the $1.2 trillion increase in the US debt limit might still not provide the country with enough funding to get through November, something that will without a doubt hamper his odds of reelection as Americans approach the polls. In regards to the news, investment advisor Ethan Siegal said, "If the debt ceiling were to breached before the election, it would be possibly nuclear."House Speaker John Boehner, a Republican, is also skeptical that the president will be able to offer anything new. If he does, says Boehner, that does not guarantee he will be able to get it off the ground. "Since President Obama took office, 1.7 million fewer people have jobs, gas prices have doubled and the health care law is making it harder for small businesses to hire and provide health insurance to their employees," the speaker said on Monday. With the results of a poll conducted by St Louis Today released this week revealing that Americans care more about domestic issues now than during the last 15 years, the president is sure to touch on those problems from the Capitol Building. Following the executions of Osama bin Laden and Muammar Gaddafi, as well as the end of the Iraq War that came after ten years of efforts, foreign problems are less than an issue with Americans. Now Obama has to prove that he can take care of problems at home if he wants to stay in the White House.
You can share this story on social media: