Obama almost loses Democratic primaries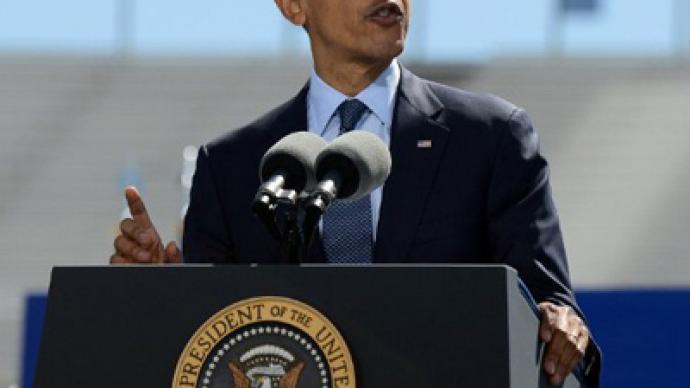 Even though US President Barack Obama has no real competition in the Democratic primaries leading up to Election Day, the commander-in-chief has still managed to embarrass his party by barely winning in several state elections.
Primary voters in both Kentucky and Arkansas hit the polls this week in the states' Democratic primaries, but the presumptive nominee, President Obama, was far from being their dead-set choice for the coming election. In Kentucky, around 42 percent of registered Democrats that made it to the polls said they were "uncommitted" to a candidate; in Arkansas, a Tennessee attorney captured 40 percent of that state's Democratic vote.The news is anything but good for the current commander-in-chief, but isn't exactly news, either. Aside from last year's execution of Osama bin Laden, most monthly approval rating surveys suggest that America isn't completely won over yet by the Obama administration. A faltering economy is only adding to their concerns and, in southern states where race is arguably still an issue, even registered Democrats are weighing their options, even if that means voting for the virtually unknown.Earlier this month, Obama barely won the West Virginia primary after an inmate who claims to have once been a member of the Federation of Super Heroes won 41 percent of the vote. In that instance, many voters say that opting for the fringe candidate wasn't necessarily a novelty, even if the candidate claimed in his official bio that he could see into the future."I voted against Obama," Ronnie Brown, a 43-year-old electrician from Cross Lanes told the Associated Press two weeks ago. "I don't like him. He didn't carry the state before and I'm not going to let him carry it again."West Virginia GOP Chairman Mike Stuart added to the AP that Obama's poor performance against inmate Keith Judd was "embarrassing" for both the president and the state. Given his latest lackluster polling, pundits elsewhere are saying that problems for the president might only worsen."Overall, showings in Kentucky and Arkansas are certainly an embarrassment for Obama; the question is whether they portend a real enthusiasm problem in the fall," Chris Cillizza writes for a Washington Post blog.In all three primaries, Reuters reports that Obama's poor performance can be blamed on "an apparent sign of voter dissatisfaction with his first term." In Arkansas and Kentucky's Republican Party primaries, presumptive nominee Mitt Romney won the GOP race with 68 and 67 percent of the vote, respectively. Last week, Rasmussen Reports published the results of a poll suggesting that, for the first time, Romney had more of a chance at winning the 2012 race than the incumbent.
You can share this story on social media: