Mitt Romney arrested for disorderly conduct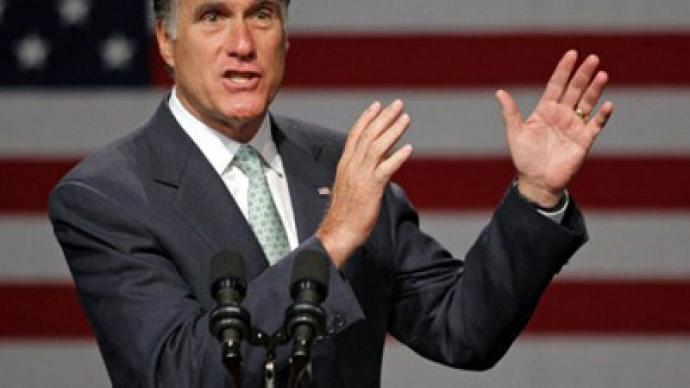 If you thought Mitt Romney was a robotic cyborg programmed by the Republican Party solely to give Barack Obama a run for his money, think again. It is now being reported that the GOP frontrunner once did something — gasp — human!
According to a nearly two-decade old Boston Globe article that has been unearthed by Buzzfeed, at one time the presidential hopeful wasn't the stiff, white bread, robot-like humanoid he comes off as today. In fact, Romney even had a run in with the law during the wild 1980s that ended with the future governor of Massachusetts being hauled off to a police station in cuffs.Back in 1981, Bad boy Mittens stood up to Johnny Law by refusing to hear a Wayland, Massachusetts police officer's plea to keep the Romney family boat out of the water. While running for Senate in 1994, Romney explained to the Globe that he was trying to enjoy an outing on the beautiful Lake Cochituate years earlier when a local cop demanded that he produce the applicable paperwork. When Romney followed through, though, he was allegedly told that his license looked painted over and he'd be subjected to a $50 fine for launching his boat without authorization.That's when Romney got rebellious.In a classic millionaire move, Romney told reporters," I was willing to pay the fine" and so he just went ahead and launched the boat anyway."I figured I was at the state park with my kids," he told the paper. "My five kids were in the car wondering why we weren't going out in the boat, so I said I'd launch and pay the fine."For ignoring the officer's warning, however, the cop handcuffed Romney — who was clad in a dripping wet bathing suit — and brought him in to be booked for disorderly conduct.Romney? Disorderly? Even the could-be commander-in-chief thought that was a bit too much so he stormed back into court a few days later. It was there that he insisted that the charge should be dropped because he was unlawfully detained."He did not have the right to arrest me because I was not a disorderly person," Romney explained. "This was an obvious case of false arrest."Remarkably, Romney's word was enough to convince those in the courthouse to suspend the charges. "The officer obviously agreed because he agreed to dropping the case," he told the Globe.Could Romney's rehashed arrest record hurt his chances come Election Day? Probably not. After all, the last Republican US president — George W. Bush — wasn't exactly a model citizen either. Back when he was only 20 years old, Bush was also booked for disorderly conduct. In that case, however, he did something a bit more rambunctious than launch a boat against a police officer's warning: Bush was charged after having a few beers and stealing a Christmas wreath from a hotel in Connecticut. Like Romney, that charge was dropped as well.
You can share this story on social media: