​NYPD refuses to divulge transparency guidelines handbook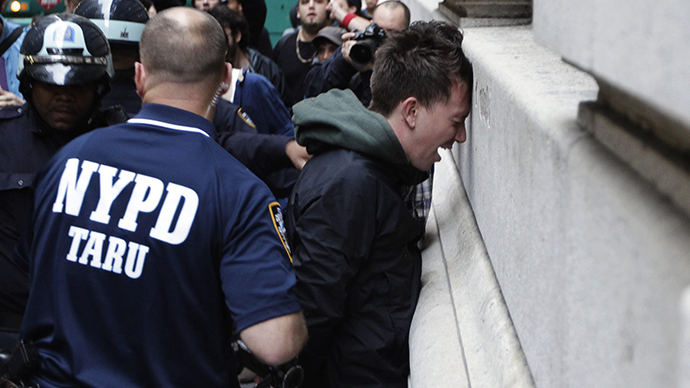 The handbook that guides the New York City Police Department's transparency policies for records requests, ultimately informing the public as to how the department operates, is being kept private based on certain statutes that "prohibit disclosure."
MuckRock editor Shawn Musgrave, writing for Gothamist, reported that he was denied access to the NYPD's freedom of information handbook – which steers the department's protocol for adhering to the New York state Freedom of Information Law – despite a public records request seemingly in compliance with state law.
"Invoking attorney-client privilege, the records access officer ruled that a handful of statutes 'prohibit disclosure' of freedom of information reference materials," Musgrave wrote, describing a February 28 letter he received from NYPD Records Access Appeal Officer Jonathan David that cemented the rejection of a records request submitted two months earlier.
The secretive, opaque stance from the NYPD is nothing new, Musgrave noted. Last year, it was revealed that the largest police department in the United States – and the "seventh biggest army in the world" according to Mayor Michael Bloomberg in 2011 – had for the last decade applied a "secret" designation to internal documents that it wanted to keep from the public. Yet that label is not legally binding in New York state.
Musgrave pointed out that the department has lost legal battles in the process of avoiding basic records requests by everyone from reporters to activists to concerned citizens. In the last decade, judges have compelled the NYPD to cough up data on the city's unconstitutional stop-and-frisk law, gun permit applications, and hate crimes reports, among other coerced disclosures.
Robert Freeman, executive director of the public advocacy group New York Committee on Open Government, said the freedom of information handbook – which spells out what must be released to the public by law - is a basic resource which the department has no business hiding from the public.
"It is in the public's interest to know how the NYPD functions," Freeman told Musgrave. "If this guide represents the policy of the department, it is not privileged."
Musgrave said now that his information request was denied, "officer David has left me with no recourse save needless litigation to obtain even a single page."
Last year, as the city's public advocate, current Mayor Bill de Blasio gave the NYPD a failing grade for ignoring Freedom of Information Law requests. Only one of the city's other 34 agencies did as poorly on the Public Advocate's Transparency Report Card.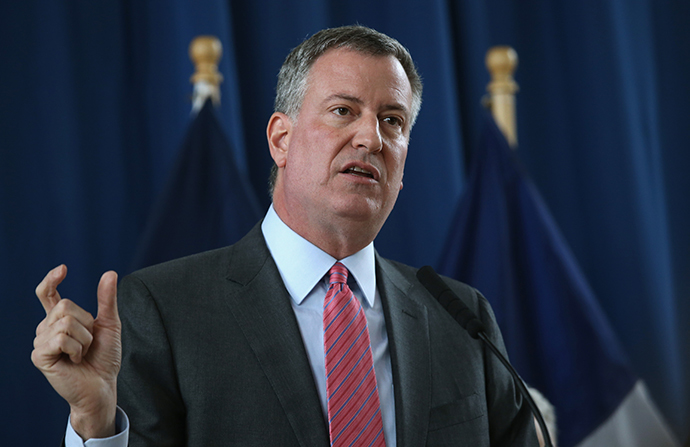 De Blasio said at the time that agencies that consistently fail to heed information inquiries from the public should face fines. He also encouraged agencies to publish online information that is frequently requested.
De Blasio won the mayoral election last year on a transparency platform, though he has been criticized for falling short of his openness pledge. In his first month in office, he was maligned by some for participating in a closed-door meeting with powerful lobby group the American Israel Public Affairs Committee, despite his lack of foreign policy duties as mayor.
Around the same time as the AIPAC meeting, in late January, the mayor claimed "we want to make sure that we're as transparent as possible."
Closed meetings early in his mayoral term with real-estate developers and White House staff have also rankled transparency hawks.
New NYPD commissioner Bill Bratton has also pledged allegiance to transparency. The two-time police chief said his latest term heading the NYPD would mark a "collaboration unlike anything we've ever seen" between police and the public.
"There should be no secrets in the NYPD," he said in front of the Citizens Crime Commission in February. "We're going to do more to open up the organization."
Late last year, the NYPD ordered police precincts to avoid giving media information about crime data, asking them to direct reporters to a consolidated public information office.
"This is just another sign of the current NYPD's hostility to public accountability," said Christopher Dunn, associate legal director of the New York Civil Liberties Union, in the final days of the Bloomberg administration. "Starting in January, we expect the department to take a dramatically different approach to openness, one that will benefit not only local newspapers but the press and public in general."
You can share this story on social media: