Deportations leave record number of children with no parents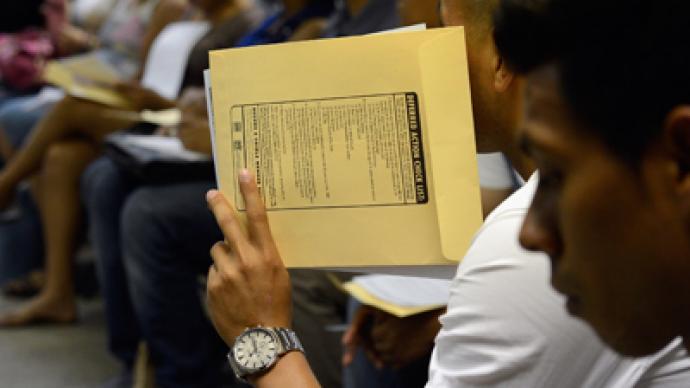 As the US government deports tens of thousands of immigrants, children are increasingly watching their parents handcuffed and dragged away as they get handed to social workers and denied contact with their broken up families.
Nearly 45,000 parents who were illegally in the US were deported in the first six months of this year, leaving behind parentless American children, according to Immigration and Customs Enforcement (ICE).Even though President Obama promised to focus on removing criminals and keeping families together, regardless of immigration status, the number of deportations this year is breaking records."How can my country not allow a mother to be with her children, especially when they are so young and they need her, and especially when they are Americans?" Rony Molinda said to AP."Gone were the egg-and-sausage tortillas that greeted him when he came home from school, the walks in the park, the hugs at night when she tucked him into bed," AP writes, telling the story of a 10-year-old boy whose mother was torn unexpectedly from his life. "Today the sweet-faced boy of 11 spends his time worrying about why his father cries so much, and why his mom can't come home."While the boy and his father had US citizenship, the boy's mother, who was from Guatemala, was in the US illegally.More than 5,100 children in 22 states live in foster care, some of which are being put up for adoption against the wishes of their deported parents. If a US judge decides that a child is better off in the US, parents may not have their child back and families are permanently broken up.During his 2008 campaign, President Obama told a Texas audience that deportations should target violent offenders and criminals, not families."When nursing mothers are torn from their babies, when children come home from school to find their parents missing … when all this is happening, the system just isn't working and we need to change it," Obama said in 2008.But four years later, it has not been changed. A 2010 analysis by the Pew Hispanic Center found that one in every ten American children faces the threat of deportation of a parent. The study also found that children of immigrants, living in a state of constant worry, showed an increase in crying, loss of appetite, sleeplessness, clingy behavior, fear and anxiety and fears of law enforcement officials.When 16-year-old Janna Hakim of Brooklyn had her mother taken away from her and locked up for three months awaiting deportation, her family fell apart."It was horrible, horrible," the girl said, describing how she felt when she saw her mother behind a glass panel in a detention center, wearing a prison uniform. After Hakim's mother was deported, the girl's 13-year-old brother began wetting the bed and her 15-year-old brother started to get involved with gangs and drugs."I am not a criminal. I am the mother of American children and they need me, especially the younger ones," the mother told AP over the phone. "How can a country break up families like this?" As crying babies are ripped from mothers' arms, parents are taken away in handcuffs and illegal immigrants disappear into faraway detention centers, thousands of anxiety-stricken American kids continue to fill up foster homes – and will most likely be placed for adoption.
You can share this story on social media: