Three Florida cops charged in string of immigrant beatings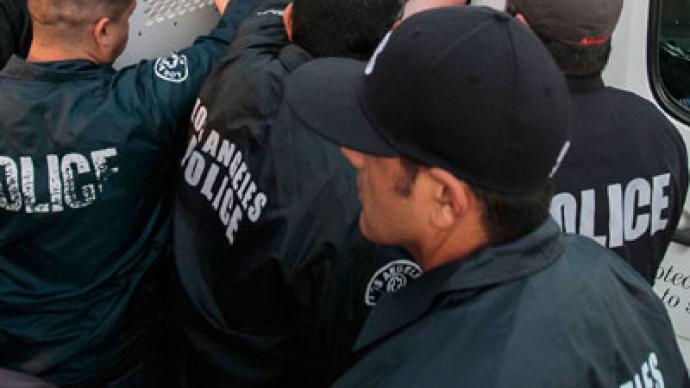 Three South Florida police officers are on administrative leave from the force after posting bond this week. All three cops are being charged with a string of beatings that targeted immigrants.
Officer Giovanni Soto, 40, Sgt. Lizanne Deegan, 44, and Sgt. Jeffrey Rome, 56, are all believed to be involved in a rash of incidents that started as early as February 2011.The Homestead Police Department officials were brought into custody this week after arrest warrants were filed following the culmination of a year-long investigation that involved the FBI and local law enforcement, during which all three officers were placed on extended paid leave.According to Internal Affairs Detective Antonio Aquino, on February 6, 2011 Sgt. Rome attacked a man outside of Celio's Latin Quarter Bar in Homestead, FL near Miami, a known hangout for Spanish-speaking migrant workers. The establishment had been rigged with undercover surveillance cameras due to a human trafficking investigation, which also caught the cop on film allegedly beating a man with a metal baton. The footage has also been described to the media to show Officer Sotto involving himself in the attack. The victim allegedly called 911 for assistance after the incident, to which Sgt. Deegan was dispatched to file a complaint — the officer did not follow through, though. "Officer Soto confirmed he thought Sergeant Deegan would cover up the issue and confirmed that his was not the first time he witnessed Sergeant Rome cause injury to patrons at Celio's. Officer Soto stated that he didn't report this because he was afraid of what could happen to his job," Detective Aquino writes in the warrant.The detective adds that video footage shows Sgt. Rome grabbing a 69-year-old man by the collar and dragging him on the ground during a separate April 2011 incident. "As the man lay motionless on the ground, Sergeant Rome is seen kicking the man in the head," the warrant reads. Additionally, Sgt. Rome is also being charged with pepper-spraying another Hispanic man outside the same bar on April 17. Detective Aquino writes that the 24-year-old victim was refused entry to the bar, but tried to come in anyway after being nearly robbed outside. When he asked the authorities for help, he says Sgt. Rome pepper-sprayed him three times with what the detective describes as "the strongest pepper spray and tear gas mix available for non-military use."Officer Soto is being charged with felony battery and official misconduct of a public servant and Sgt. Deegan is facing misdemeanor charges of misconduct for allegedly trying to cover up one of the incidents, the Associated Press reports. Rome is being charged with battery and false imprisonment, as well as other crimes.Aquino adds that the incidents did not stop there, though. The detective writes that the local emergency dispatcher received multiple reports similar to what investigator caught on film."According to Dispatcher Ramos, the Hispanic males made frequent complaints of being beaten and pepper-sprayed by Homestead Police on the nights Homestead Police Sergeant Jeffrey Rome worked the off-duty detail at Celio's," Aquino writes.In a statement offered earlier this week, State Attorney Katherine Fernandez Rundle revealed that the US Department of Justice dispatched investigators as far away as Guatemala in order to track down some of the victims."Police brutality is wrong no matter what form it takes. The covering-up of police brutality is equally wrong. That's why we are prosecuting these cases in cooperation with the U.S. Department of Justice who played an essential role in helping make these cases possible," says Rundle.The local officers union, the Miami-Dade Police Benevolent Association, say the attorney general is only now generating talk about the case because she is about to be up for re-election."We feel the state attorney certainly has an agenda in this case and that there are serious problems within Homestead Police Department's internal affairs unit and with Chief Alexander Rolle's management," union President John Rivera tells the Miami Herald.All three officers are free awaiting their next court date.
You can share this story on social media: