New Jersey mall gunman found dead of self-inflicted gun wound
Published time: 5 Nov, 2013 03:00
Edited time: 5 Nov, 2013 10:29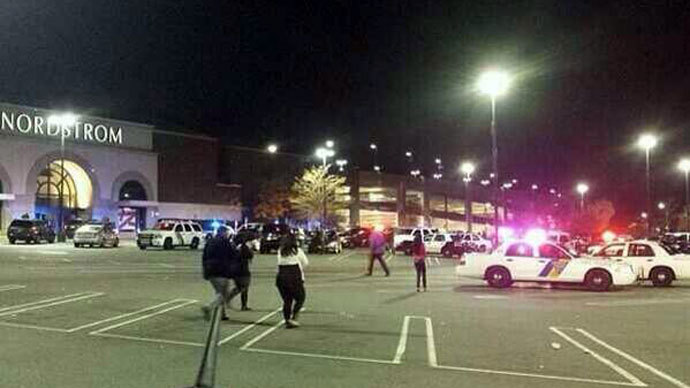 The shooter who opened fire at a New Jersey mall Monday night was found dead of apparent suicide, according to US authorities, who have provided a positive identification of the gunman.
Bergen County Prosecutor John Molinelli says the body of 20-year-old Richard Shoop of Teaneck was discovered in an area behind the Garden State Plaza mall in Paramus early Tuesday. He says Shoop killed himself with the same weapon he discharged at the mall and that a note has been found. 
The gunman's body was discovered around 3:20 a.m. Tuesday on a lower level of the mall that is not a public area, Paramus Police Kenneth Ehrenberg said, as quoted by AP. Shoop was not employed at the mall, he said, and law enforcement officials are investigating a possible motive for the shooting.
 
No other injuries were reported.

Police received notice of gunshots in the mall, located in Paramus, New Jersey, shortly before the facility's 9:30 p.m. closing time, Chief of Staff at Bergen County Jeanne Baratta told AP.

Hundreds of law enforcement officers converged on the mall, and New Jersey State Police landed a helicopter in the parking lot of the 2.2-million square foot facility.  While the gunman was still on the loose, officials said they had identified a possible suspect, New Jersey State Police Sgt. Joe Lettieri said, as reported by CNN.
Baratta said SWAT teams and K-9 police units were going through the mall - described as one of the state's biggest and most popular shopping complexes - evacuating anyone who was still in the facility. As of 11:30 p.m., law enforcement officials believed there were still people inside of the complex, she said.

A local news channel also gave an account of the incident.

"According to a police source, the shooting began near the Nordstrom's department store on the second level of the mall.  At least eight shots have been fired; the gunman is believed to be wearing body armor," Pix 11 reported.
In Paramus, about 2 hrs from Htfd RT @JessicaWCBSWLNY: Garden State Plaza locked down. pic.twitter.com/YaKTiKFcfI

— Chris Collibee (@ChrisCollibee) November 5, 2013
"Police and SWAT teams from surrounding areas, along with state police, are en route to the scene."
The mall was closed at 9:30 pm as police swarmed the area, according to NBC4. The FBI was also reported to be on the scene.
A Bergen County Executive Office spokesperson told News12 that police are doing a store-by-store sweep and that there have been no reports of injuries.

Witnesses told NBC 4 New York that a man dressed in black, including a black helmet, opened fire inside the mall.
Police have flooded the Garden State Paza mall as they search for gunman dressed black carrying high powered weapon pic.twitter.com/N6kXosgd6S

— Ida Siegal (@idasiegal4ny) November 5, 2013
"Some people have been locked down inside stores. One person inside heard at least two bangs," reported ABC7.
"He was fully armored head to toe, like he planned this. Like it's not like a random thing," a man shopping at the mall at the time who asked for anonymity told NBC4.
"I'm fine, but this is crazy," he added.
A witness told ABC7 of an encounter with the alleged gunman.
"We were walking in the mall just in front of the Apple store, he was wearing black and wearing something on his back, looked like two gas balloons, and then he was walking with a very big rifle, and shooting into the air to the top. Basically walked very calmly, he was approximately 5'5", he was shooting with a very long rifle and he had a very big helmet on him, kind of a black silver helmet," the witness said.

A worker at the Joe's American restaurant in the mall told Fox 5 News he heard shots, then mall security ordered staff to lock all doors.
Another worker at a Talbots store told NBC4 the alleged gunman fired his gun as he walked through the mall.
"When he walked past our store, he looked directly in the store and strolled past," she said. "It was very, very terrifying."
ABC7 tweeted: "Bergen County Executive's spokesperson confirms police SWAT responding to an 'active shooter' in area of Nordstrom."
Police set up a perimeter around the shopping complex, while Pix11 reported "an estimated 200 police officers at the scene."