Will Netanyahu make concessions for Middle East peace in Moscow?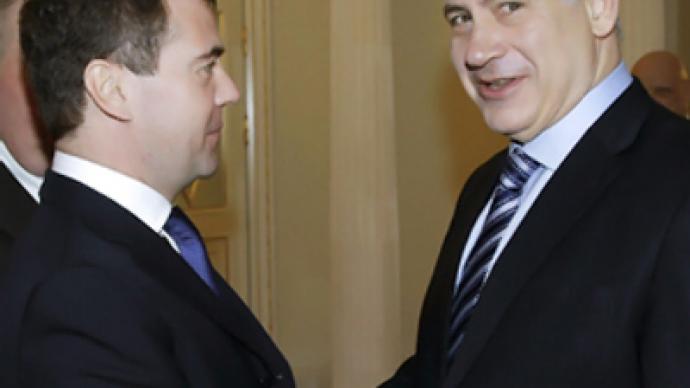 Israeli Prime Minister Benjamin Netanyahu is in town, lobbying for Moscow's support of sanctions against Tehran, but to what extent will Palestinian statehood figure in the talks?
Is a Middle East peace plan between Israelis and Palestinians, which has eluded the world for many decades, finally close at hand?
With the hawkish Israeli leader in Moscow for two days of talks on a range of urgent issues, including the question of Iran's nuclear ambitions, rumors are swirling around the Russian capital that Netanyahu may be willing to make large concessions on the question of "permanent peace with the Palestinians" in return for Moscow's unconditional support in reining in Tehran.
Whether or not those rumors will come to fruition, one thing remains certain: Israel needs strong Russian backing if it hopes to apply the greatest pressure against Iran. And out of the tense atmosphere now being felt across the Middle East, a long-elusive peace may fall like a diamond from a lump of coal.
"Russia is one the major players on the international scene and can be called Israel's friend," Netanyahu told Israeli radio before his departure to Moscow. "Israel believes that strong pressure should be exerted on Iran, primarily tough sanctions, which the US secretary of state [Hillary Clinton] called 'crippling' sanctions.'"
From Israel's perspective, there is another crucial element pertaining to Russia's cooperation: If Russia gets on board in favor of sanctions against Iran, China will suddenly find itself "in isolation," which may force Beijing to join the Western powers against Tehran.
"If Russia agrees to impose sanctions, China will remain in isolation and will highly probably support the policy of Western powers," a source in the Israeli government told Itar-Tass.
"Therefore, meetings with Russian leaders are…important," the prime minister confirmed.
Finally, Netanyahu will certainly request from President Dmitry Medvedev that Russia reconsider all military sales to Iran, specifically the supply of S-300 anti-aircraft missile defense systems, especially in light of the recent developments out of Tehran.
But according to at least one Russian official, the reversal of the sale of the anti-aircraft missiles, which Moscow rightly contends are strictly defensive in nature, will not be impeded
"There is the signed contract that we must fulfill, but supplies have not started yet," Vladimir Nazarov, Security Council Deputy Secretary told Interfax on Monday. "This deal is not restricted by any international sanctions, because these are merely defensive weapons."
Keeping Tehran from going ballistic
In the past, Moscow – much like the administration of US President Barack Obama – has been advocating "civilized dialogue" with Tehran in order to prevent their fledgling nuclear program from going ballistic.
This strategy seemed to be gaining some traction, especially when Iranian President Mahmoud Ahmadinejad gave his tentative approval to a plan that envisioned Iran sending its enriched uranium supplies to Russia, and then to France, where it would be converted into fuel rods for medical research. It must be remembered that these delicate negotiations where proceeding under the threat of an Israeli "preemptive strike" against Iran.
But last week, during a massive public celebration on the anniversary of the 1979 Iranian Revolution, Ahmadinejad recklessly reversed gears, announcing that Iran had successfully enriched its uranium to 20 per cent purity – a significant jump, analysts say, but a far cry from the necessary 90 per cent levels needed to produce nuclear weapons.
Needless to say, the announcement was received like a bucketful of cold water, as Iran even managed to alienate once-supportive states, like Russia.
Nikolay Patrushev, secretary of Russia's Presidential Security Council and former head of the FSB, said there was a "limit" to how much diplomacy could be used to solve the ongoing crisis.
Speaking to reporters in Moscow, Patrushev said: "The actions [Iran] is taking, including the enrichment of uranium to 20 per cent, raise doubts in other countries and those doubts are quite valid."
Certainly, Netanyahu will want to capitalize on Russia's gradually changing attitude toward Iran, hoping to turn them into solid Russian support for "crippling sanctions" against Tehran. But Russia, as part of the Quartet on the Middle East, together with the European Union, the United States and the United Nations, will certainly want to see Israel agree to some hard conditions over the question of a peace deal with the Palestinians before it commits itself to getting tough on Iran.
What price Middle East peace?
Before holding out hope that Benjamin Netanyahu will agree to any sort of concessions regarding a peace plan with the Palestinians, it may be helpful to remember how the Israeli leader manhandled Obama in the White House over this very issue.
In May 2009, during Netanyahu's first meeting with Obama in Washington, a reporter presented the following question to the American and Israeli leaders regarding the prospects of there being "linkage" between Iran and Palestinian statehood:
Q: Mr. President, the Israeli Prime Minister and the Israeli administration have said on many occasions – on some occasions that only if the Iranian threat will be solved, they can achieve real progress on the Palestinian threat. Do you agree with that kind of linkage?
To which President Obama answered: "Having said that, if there is a linkage between Iran and the Israeli-Palestinian peace process, I personally believe it actually runs the other way. To the extent that we can make peace with the Palestinians – between the Palestinians and the Israelis, then I actually think it strengthens our hand in the international community in dealing with a potential Iranian threat."
This is clearly not the formula that Netanyahu was thinking about, and that was made very clear when it was his turn to answer.
"There isn't a policy linkage, and that's what I hear the President saying, and that's what I'm saying too," Netanyahu responded, completely refuting the US president's previous statement. "And I've always said there's not a policy linkage between pursuing simultaneously peace between Israel and the Palestinians and the rest of the Arab world, and to trying to deal with removing the threat of a nuclear bomb."
[To read entire transcript of the White House press conference between Obama and Netanyahu, click here].
Netanyahu is known in political circles as a formidable negotiator, who seldom makes compromises, no less friends, so if Moscow is hoping to drag some concessions out of Netanyahu in return for its support, well, it will be a long two days in the Kremlin.
However, Netanyahu is fully aware that Moscow, which just hosted Hamas in Moscow for talks, may be in the perfect position to act as negotiator on all fronts.
On other (historical) fronts
President Dmitry Medvedev and Prime Minister Benjamin Netanyahu, in addition to the pressing problems of the Middle East, have a host of other issues to consider over the course of their two-day meeting.
Russia and Israel will issue a joint statement on the 65th anniversary of the end of WWII, Medvedev said.
"This is a special year of celebrations of the 65th anniversary of victory over fascism. This is our common victory," Medvedev said.
The Russian president then stressed the importance of the historical date. "The memory of those events must last forever. It is important to prevent misinterpretations of history," he said. "That is vital for Russia, Israel and the entire world."
Netanyahu called the sacrifices made by the Russian people during World War II "unbelievable."
You can share this story on social media: