Hamas leader to visit Moscow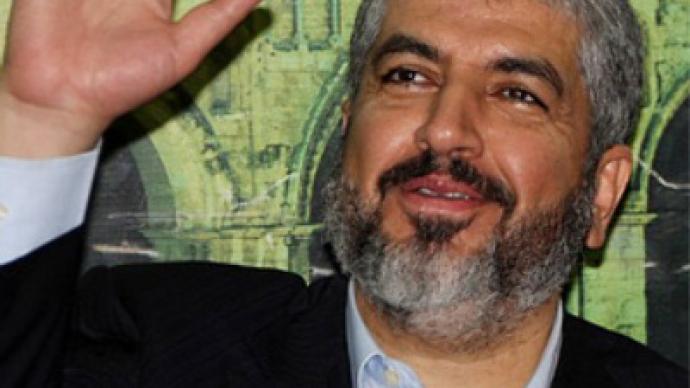 The leader of the radical Palestinian party Hamas, Khaled Mashal, will visit Moscow next week to discuss ways of ending the Palestinian split and how to resume the Palestinian-Israeli negotiations.
Russia's Foreign Ministry informed that "The meeting will take place in the context of the political dialogue that Russia is holding with influential forces of Palestinian society to contribute to the resumption of Palestinian-Israeli talks on a well-known and generally recognized international legal basis," said Foreign Ministry spokesman Andrey Nesterenko.
In January this year, Palestinian leader and leader of Fatah Party Mahmoud Abbas held talks in Moscow with Russia's President Dmitry Medvedev. The ministry spokesman pointed out that the negotiations with Mahmoud Abbas "have confirmed the similar approaches with Moscow on peaceful resolving of the Middle East crisis."
Hamas has controlled the Gaza portion of the Palestinian Territories since 2007 after winning a large majority in the Palestinian Parliament and defeating rival Palestinian party Fatah. So far, talks to reconcile Hamas and Fatah since Egypt began mediations in late 2008 have seen no results.
Hamas, backed by Syria and Iran, doesn't recognize Israel and is seen by the EU, the US, Canada, Israel and Japan as a terrorist organization. However, Russia has always been open to a dialogue with Hamas and met the party's leader Khaled Mashal in Moscow after the elections in 2007.
After the last meeting with the leader of Hamas in Syria, Russian Foreign Minister Sergey Lavrov said that Hamas had adopted a more realistic approach since Operation Cast Lead in December.
Israel has criticized Lavrov's meeting with Mashal, saying that Hamas is a terrorist organization. However, Russia's FM said that in every conflict all sides should be involved in dialogue: "This principle applies to Hamas, as well as Hezbollah and Syria."
Professor Irina Zvyagelskaya, Vice President of the Center for Strategic and Political Studies, thinks that is the exact reason why Moscow is seeing the leader of Hamas this February: "Relations between Fatah and Hamas remain tense, despite Egypt's mediations. If Hamas will be excluded from negotiations, then any decisions, which will be made by other parties, will not be accepted by Hamas, and the Gaza strip will remain isolated."
Meanwhile, according to the Israeli media, Israel's Prime Minister Benjamin Netanyahu is to visit Moscow in the middle of February. Irina Zvyagelskaya, however, doesn't think that Moscow will anger either Israel or Palestinian leader Mahmoud Abbas by meeting with Hamas: "Well, officially they may express their dissatisfaction with this. However, both the Israeli and Palestinian leaders understand that we are acting as mediators and we need to understand what the Hamas position is."
Vyacheslav Matuzov, president of the Russia-Palestine Society of Friendship and Business Cooperation, also thinks that Moscow's talks with Hamas are essential in solving the Palestinian question and says that, even though officially Mahmoud Abbas may frown upon it, it should be taken well, "The level of trust between Russia and the Palestinian leadership is high; they trust us and know that we will not harm their interests," Matuzov notes.
Moreover, Matuzov thinks that at the end Israel and the West will recognize Hamas – and Hamas, in his view, will also eventually recognize Israel: "Hamas was created by the Israeli special intelligence services and the elections in Palestine were choreographed by American special services." He concludes that the aim of this political game is that the Palestinian state will be restricted only to Gaza.
Olga Masalkova, RT
You can share this story on social media: