McCain: NSA chief should be fired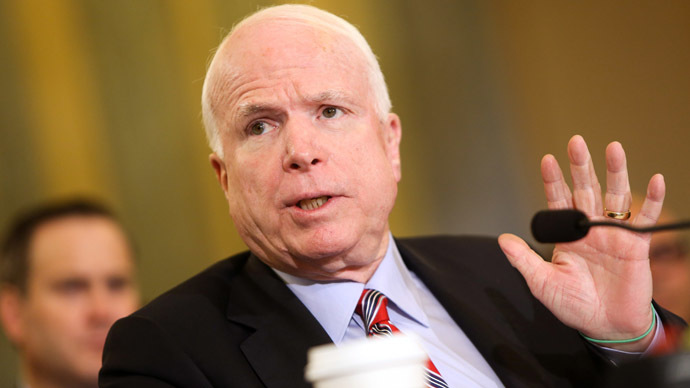 Senator John McCain (R-Arizona) says Gen. Keith Alexander, the head of the United States National Security Agency, should be fired or forced to resign for letting contractor Edward Snowden have access to the information he ultimately leaked.
Five months after Mr. Snowden first took credit for leaking a cache of sensitive NSA documents to the media, Sen. McCain told reporters with Germany's Der Spiegel over the weekend that Gen. Alexander should be held accountable for putting the national security of the US at risk by allowing classified information to fall into the hands of an individual intent on making those documents public.
Speaking broadly of how the NSA's authorities are kept in check, the senior senator told Der Spiegel, "There has not been sufficient congressional oversight, and there has been an absolutely disgraceful sharing of information that never should have taken place."
"For many years, we had an absolute provision that any classified information, which was going to be shared, is based on need-to-know information," said McCain. "I was a Navy pilot and had Top Secret clearance because I was in a squadron that in case of war with Russia would carry nuclear weapons. But that did not mean that I was privy to everything."
Asked by the magazine if someone other than Snowden should be reprimanded for their role in the scandal, McCain suggested "The head of the NSA, the president of the United States, the Congressional Intelligence Committees [and] all of these contractors we pay that were responsible for performing the background checks"  all be considered for "wholesale housecleaning" in Washington.

"[T]hey should resign or be fired," added McCain. "We no longer hold anybody accountable in Washington. The Commandant of the Marine Corps fired a couple of generals because of failure of security at a base in Afghanistan. Tell me who has been fired for anything that's gone bad in this town."
Snowden, 30, fled the US earlier this year and supplied a number of media outlets with a treasure trove of NSA documents that have been steadily published in international papers ever since, in turn revealing a number of embarrassing operations conducted by the US intelligence agency, including evidence of domestic spying and surveillance targeting American allies.
Commenting to reporters on why the NSA would eavesdrop on Germany Chancellor Angela Merkel — a revelation that has only surfaced after Snowden's leaks suggested the possibility — McCain said, "I think they did it is because they could do it."
"In other words, there were people with enhanced capabilities that have been developed over the last decade or so, and they were sitting around and said we can do this, and so they did it," the senator said.
And just as McCain expressed a grim opinion with regards to any accountability within the NSA, he also suggested he believes there is a slim chance Snowden will ever return to the US from Russia, where he was awarded temporary asylum in August by President Vladimir Putin.
"The Russians know if they send him back that that's a lesson to other people who might defect. I'm sure that Mr. Snowden has told them everything that he possibly knows," said McCain.
"If you believe that Mr. Snowden didn't give the Russians information that he has, then you believe that pigs can fly," he added.
When Pres. Putin approved Snowden's asylum request three months ago, the senator accused Russia of committing a "disgrace" that served as "a deliberate effort to embarrass the United States."
"It is a slap in the face of all Americans. Now is the time to fundamentally rethink our relationship with Putin's Russia. We need to deal with the Russia that is, not the Russia we might wish for," he said then.
As for Alexander, McCain might soon have his wish: the four-star general will reportedly retire next year, exiting his role at the top of the NSA and the US Cyber Command.
You can share this story on social media: