California cop shoots unarmed man eleven times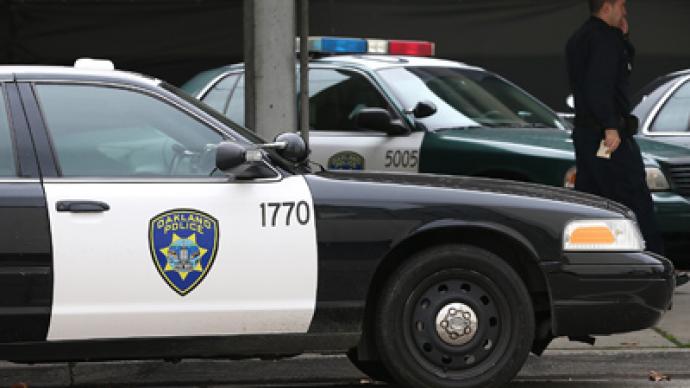 The day after prosecutors cleared a police officer for shooting a man eleven times and killing him, attorneys representing the victim released a graphic video showing the shooting.
The San Joaquin County district attorney's office concluded that California Police Officer James Moody had been legally justified in shooting 34-year-old Ernesto Duenez Jr., but the video might bring the case back to court.
On June 8, 2011, the officer ordered Duenez to get out of his pickup truck, which was parked in the driveway of his house. Duenez was on parole and was wanted in connection with a domestic-violence incident that occurred earlier that day. When the man exited his vehicle, Officer Moody immediately opened fire, shooting 13 times and riddling the man with 11 bullets in 4.2 seconds as he rolled on the ground.
Duenez was shot once in the head, eight times in his body and twice in his extremities. Four of these shots occurred while he was already on the ground. He died shortly thereafter from gunshot wounds to the chest and abdomen.
While the officer was firing his gun, the victim's wife ran out of the house, screaming at the officer and subsequently crying over her husband's dead body.
Moody claims he shot the victim because he saw Duenez holding a knife. An 8-inch knife with a 4-inch blade was later found in the bed of the truck, but Duenez was not carrying it at the time of the shooting. The footage also shows the victim's foot getting stuck in the seatbelt while he was trying to exit the vehicle.
The camera footage contradicts the story told by the officer, showing a situation in which Duenez posed no threat to the police.
"This is more barbaric than even the Oscar Grant shooting," Oakland attorney John Burris, who filed a wrongful-death lawsuit, told the San Francisco Chronicle.
Even though Duenez was a known gang member who had violated his parole by failing a drug test, prosecutors claim he was in the wrong by fatally shooting the unarmed man.
Rosemary Duenez, the victim's mother, agreed to release the video in response to the court decision to clear the officer of the crime. After Burris showed it to her, the 58-year-old woman said she hopes the video will garner support from others.
"As heartbreaking as it is, people need to see what happened," she told the Chronicle. "They need to know what we see, and what we're fighting for."