Major-league environmental advocate suing State Department over Keystone XL analysis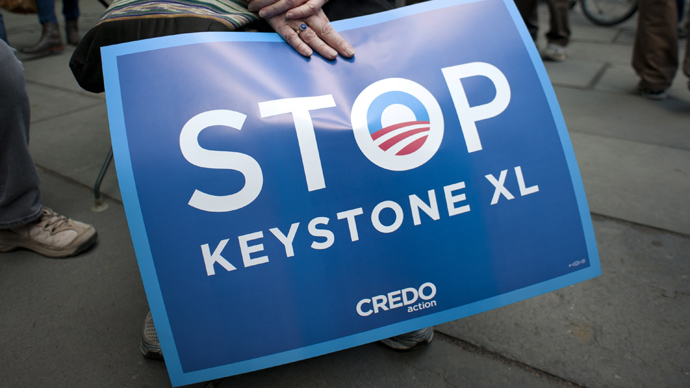 The Sierra Club, one of the oldest environmental organizations in the US, has announced that it will be suing the State Department for access to documents regarding an environmental review of the Keystone XL oil sands pipeline.
The lawsuit will be filed following the group's unsuccessful Freedom of Information Act (FOIA) attempt to acquire information on the consulting firm that was hired to assess the Canadian-US oil pipeline. Critics of the pipeline project argue that TransCanada has not been upfront about the risks posed by transporting heavy tar sands oil, and more broadly criticize the widening tar sands industry in Canada and elsewhere for its environmental impact.

The Sierra Club, along with many other environmental organizations that oppose construction of the pipeline, maintain that the company that conducted the government's impact report had a significant conflict of interest as it had "financial ties to the pipeline company and the American Petroleum Institute, one of Keystone XL's most active and vocal lobbyists." 
The Environmental Protection Agency has also called into question the report. In April, EPA Assistant Administrator for Enforcement and Compliance Cynthia Giles wrote to the State Department to say that that agency's March 2013 environmental impact report was "insufficient."

A major portion of the pipeline requires a cross-border permit, and the environmental impact report produced by Environmental Resources Management will be key in finalizing the State Department's review of the project. The State Department signaled via a draft review in summer 2011 that it intended to grant the project a passing environmental grade.

Unlike the section of the pipeline that will cross the Canada-US border, the Oklahoma-to-Texas section does not require special permits, and has already been laid down. As Inside Climate News reported only a few days ago, sections of that new pipeline, which is not yet operational, were recently dug up after TransCanada identified 40 "anomalies" along a 60-to-70 mile stretch in east Texas.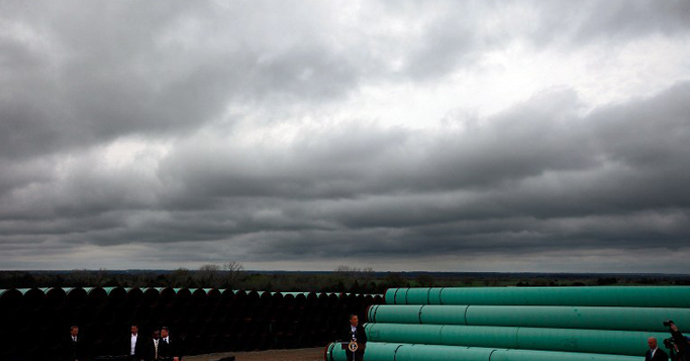 Mohammad Najafi, a civil engineering professor at the University of Texas at Arlington and editor-in-chief of the Journal of Pipeline Systems Engineering and Practice, tells Inside Climate that such anomalies point to "something unusual" on the pipeline which could cause big problems in the future.

As for the presence of 40 anomalies, Najafi says that is "very unusual" and "shows that something is wrong."

"That's not a good sign…it doesn't necessarily mean it's dangerous, but it means [TransCanada] may have missed something," he adds.

According to additional reports from local residents owning land traversed by the pipeline, they have seen evidence on repair sites indicating more than 40 'anomalies,' though their seriousness is difficult to gauge.

In response, TransCanada spokesman Shawn Howard has said the repairs on Keystone XL are "out of an abundance of caution" to ensure that it operates at a "much higher degree of design and safety than any other pipeline."

Construction on the Oklahoma and Texas section of Keystone XL is now more than 75 per cent complete. The northern segment, to run from Alberta, Canada to Steele City, Nebraska, still requires a cross-border permit from the Obama administration before it can proceed.

Last week a former TransCanada employee testified before a Canadian Senate committee as a whistleblower against its practices.
Evan Vokes, an expert in pipeline welding, told Canadian officials that the Canadian company suffered from a "culture of noncompliance" and "coercion," with "deeply entrenched business practices that ignored legally required regulations and codes" and carries "significant public safety risks."

"It's organized crime," Vokes, an expert in pipeline welding and now whistleblower against his ex-employer, told the Huffington Post after the hearing. "The source of revenue is legal, but how they go about it isn't legal."

Vokes provided the Canadian Senate with evidence supporting allegations of shoddy safety practices, including managerial pressure to retract a welding code violation on a natural gas line feeding a tar sands project in Alberta, as well as the use of "substandard materials."

The damning testimony by the five-year former employee quickly brought about a response from TransCanada.

"We take great exception to the claims by Mr. Vokes that we do not take safety and compliance issues seriously," company spokesman Shawn Howard said to Huffington Post Canada.

"Our track record and the safety of our energy infrastructure network shows that we do," he added.

You can share this story on social media: