Arkansas oil spill: Exxon reacts to tax 'loophole,' pledges 'to cover all costs'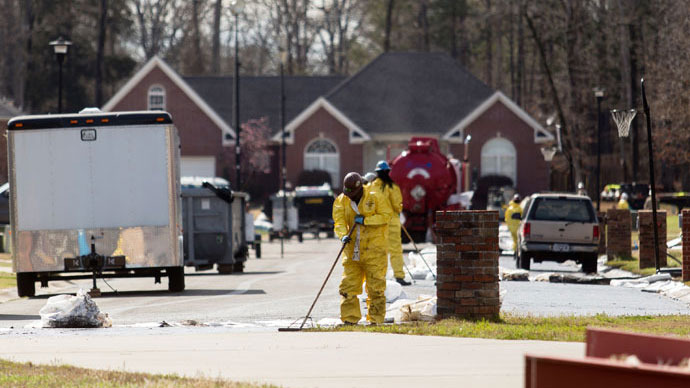 The central Arkansas spill caused by Exxon's aging Pegasus pipeline has reportedly unleashed 10,000 barrels of Canadian heavy crude - but a technicality says it's not oil, letting the energy giant off the hook from paying into a national cleanup fund.
Legally speaking, diluted bitumen like the heavy crude that's overrun Mayflower, Arkansas, is not classified as 'oil'. And it's that very distinction that exempts Exxon from contributing to the government's oil spillage cleanup fund.
Follow RT's in-depth day-by-day timeline on the Arkansas oil spill
ExxonMobil has already confirmed that the compromised pipeline was transporting "
low-quality Wabasca Heavy crude " from Canada's Alberta region. That particular form of crude contains large quantities of bitumen - a
"thick, sticky, black semi-solid form of petroleumwhich is transported in a diluted form (dilbit) as it makes its way from Canada to US refineries ," explains
, which has brought attention on the strange legal exemption.
Companies that transport oil are required to pay $.08 per barrel into the Oil Spill Liability Trust Fund (OSLTF). The cash is used by the US government to respond to oil spills. But there's a catch - Exxon is exempt from paying into the fund for its Pegasus pipeline, because it carries tar sands oil, not "conventional oil."
"The IRS has classified tar sands as different from conventional oil, and thus the tax levied to fill the liability trust fund is not levied on tar sands crude. It's a loophole that should be closed, as it doesn't line up with the actual intent of the tax or the fund," campaigns director for Oil Change International, David Turnbull, told RT.
Exxon's Response
Answering RT's detailed questions, ExxonMobil stated they are paying for all costs related to the spill. However, the company didn't reveal how much it contributes to the OSLTF, or the value of the company's crude which is not taxed by the law.
Exxon media relations manager Alan Jeffers told RT that teams are working directly with residents of Mayflower and are "paying all valid claims relating to the spill and providing interim housing for people from the homes which the city of Mayflower recommended be evacuated following Friday's spill."
@ran ExxonMobil will pay for cleanup costs in Mayflower, AR. Allegations to the contrary are not true.

— ExxonMobil (@exxonmobil) April 4, 2013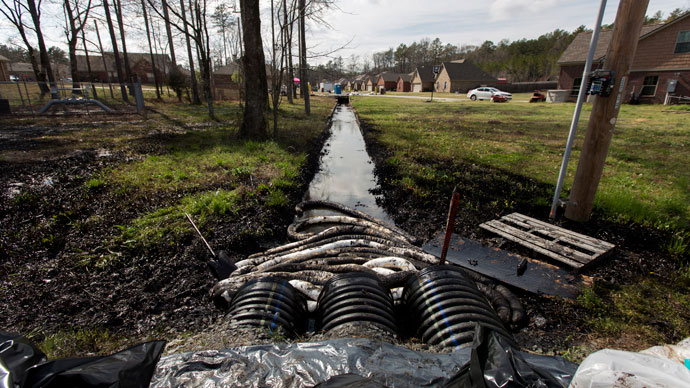 Keystone XL pipeline to carry same Canadian crude
The strange exemption of heavy bitumen crude from classification as oil dates back to a time when the extraction of tar sands on a large scale was thought improbable with technology available at the time. However, while oil companies developed the means to transform Canadian tar sands into a booming energy sector, the legal definition of oil remained the same.
"Given how toxic and dangerous tar sands oil – or bitumen – is, it's entirely irrational that this oil would be exempt from being taxed in order to pay for the Oil Spill Liability Trust Fund. As these sorts of heavy oils that are exempt from this tax continue to make up a larger percentage of oil transported in the US, it will only serve to stretch the fund even further, while putting families, communities, and ecosystems at greater risk," Turnbull explained.
The burst comes in the midst of a heated debate surrounding the controversial Keystone pipeline. If the plan goes through, the pipeline would carry up to 590,000 barrels per day, some of which would include the same type of dilbit, from the same region in Canada. This has sparked concern surrounding just how much of the pipeline's oil will be exempt from paying tax to the Oil Spill Liability Trust Fund, in the same way that the Mayflower pipeline has been.
Money from the Oil Spill Liability Trust Fund has already helped to clean up another spill caused by a ruptured pipeline. In 2010, more than 1 million barrels of diluted bitumen (crude oil) were spilled into the Kalamazoo River. To make matters worse, unlike conventional crude oil, bitumen heavy crude sinks. The ensuing environmental impact has made that Michigan spill the most expensive in US history, as toxic substances seeped into the surrounding soil.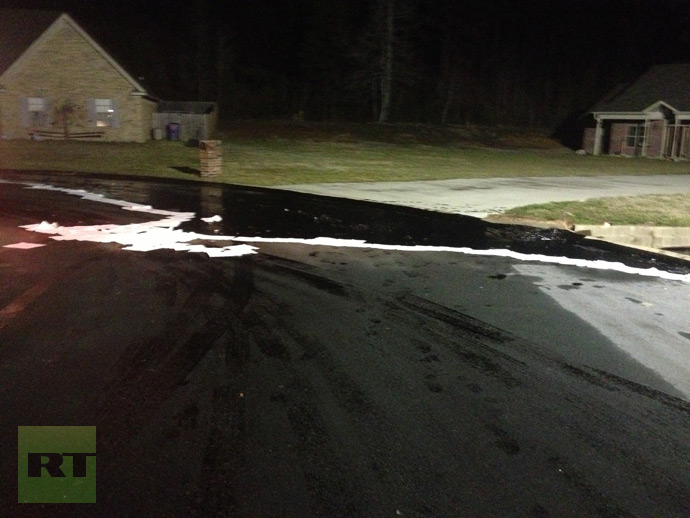 There is also the fear that bitumen heavy crude could be more corrosive to pipelines than conventional crude. The oil industry disputes the claim, and has produced scientific impact research that does not reflect higher corrosion by transporting bitumen heavy crude.
Judge Allen Dodson of Arkansas' Faulkner County seemed to reflect the concerns of those impacted by the latest spill of heavy bitumen crude, saying: "Crude oil is crude oil. None of it is real good to touch."
Just as toxic
Although the Canadian crude travelling through the Exxon pipeline isn't considered 'conventional oil' by the US government, it's still extremely harmful when spilled.
"Tar sands oil spills, or bitumen spills, are indeed more dangerous than 'conventional oil' spills. We have already seen the extreme costs and damages of tar sands oil spills in recent years, most notably in Michigan where an Enbridge pipeline carrying tar sands in 2010 resulted in the costliest on-land oil spill in US history," Turnbull said.
Turnbull called the tax exemption "irrational," considering the danger involved with bitumen spills.
"As these sorts of heavy oils that are exempt from this tax continue to make up a larger percentage of oil transported in the US, it will only serve to stretch the fund even further, while putting families, communities, and ecosystems at greater risk," he said.
The true impact of the disaster began to unravel on Monday, when a couple of dead ducks and 10 live, oily birds were found near the ruptured pipeline.
Faulkner County Judge Allen Dodson says he expects a few more oily birds to turn up in the coming days.
The spill has also had a severe impact on residents of Mayflower. Twenty-two homes have been evacuated, forcing many to move into nearby hotels until further notice.
RT spoke with local resident Chris Harrell, who described a horrendous smell both inside and outside his home, and even in his vehicle. Four days later, locals are still inhaling the strong odor.
He said that cleanup crews are operating non-stop, creating a lot of noise.
"It's quite an inconvenience to get in and out of the neighborhood," he said.
Harrell and his neighbors are also worried that bigger problems will await long after the oil and the visible signs of the spillage are removed.
"The major concern for many people in our neighborhood is a longer-term impact from the spill, both environmentally and financially. For example, what's this going to do to our property values?" he said.
This is what I have to deal with to enter my neighborhood every day. Thanks @exxonmobil#oilspill twitter.com/shiftymcfive01…

— chris harrell (@shiftymcfive01) April 3, 2013
You can share this story on social media: