LAPD not liable for shooting death of unarmed teenager, court rules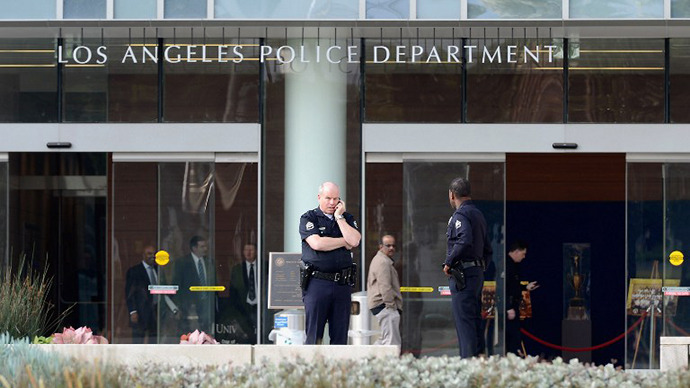 The Los Angeles Police Department will not be held liable in the shooting death of an unarmed 19-year-old killed last year when officers fired upwards of 100 rounds at him following a high-speed pursuit.
Abdul Arian died after LAPD officers shot between 80 to 150 rounds at him last April. Has family responded to his death by filing a $120 million claim against the police department and Chief Charlie Beck that July, but on Tuesday US District Court Judge Gary Klausner tossed the lawsuit out.
The events leading up to Arian's death begins with an officer's attempt to pull him over on April 11, 2012 after he spotted the suspect running a red light in an LA intersection. Arian ignored law enforcement's attempts to pull him over, only to lead several cruisers and a fleet of helicopters in a chase across Southern California. When the pursuit ended, Arian fled his vehicle and repeatedly pointed his cell phone at officers, prompting police on the scene to react as if the subject was aiming a handgun.
The car chase and the subsequent killing was captured by local TV news helicopters and broadcast live across the region.
"By the time Arian fell to the ground, at least three officers had emptied their 16-round magazines," US Judge Gary Klasuner acknowledged in his opinion.
Arian's parents say their son was only trying to take photographs of the police with his cell phone when he was shot, but authorities admitted early on that the teenager told a 911 dispatcher during the car chase that he had a gun and was willing to use it.
"I have a gun," Arian said over the phone. "I've been arrested before for possession of destructive devices; I'm not afraid of the cops."
Arian had no gun, however, and both a search of his vehicle and a toxicology report after his death turned up clean. Additionally, an attorney for the Arian family revealed during legal proceedings that "the officers in pursuit were never told that Mr. Arian was allegedly in possession of a gun, contrary to what was told to the public by the LAPD on the day of the shooting."
"All that the pursuing officers knew was that they were chasing a traffic violator," Arian family attorney Jeff Galen told KPCC News.
"There was no sense of urgency here," he said. "The police helicopter could have followed Abdul wherever he was going and this whole incident could have peaceful ending."
Officers "should have clearly been able to distinguish that the object in Mr. Arian's hands was a cellphone and not a weapon," experts testified on behalf of the victim's family.
Judge Klausner disagreed, however, and on Tuesday told Arian's family that their lawsuit has been dismissed.
"The record contains video footage from three different news sources, all of which capture Arian's position and stance with respect to officers and others," Klausner's five-page order states according to a copy obtained by Courthouse News Service. "The video footage shows that Arian turned towards officers on three separate occasions and extended his arms outward towards them. ... In each instance, Arian held a small, dark object in his hands and pointed it in the direction of officers. ... Based on this footage, the court determines that no reasonable juror could find that Arian's stance did not resemble that of an individual preparing to fire a gun."
"Here, the undisputed evidence shows that Arian, in the process of fleeing from officers, took a shooting stance and pointed his cell phone at officers three times in a span of only 19 seconds," he continued. "Even if the court assumed that warnings were practicable under these circumstances, the additional undisputed facts going to the reasonableness of officers' actions weigh substantially in favor of officers, such that the extent to which officers issued warnings is immaterial."
City Atty. Carmen Trutanich released a statement in response to the reading saying, "Too often our police officers must defend themselves in the face of grave threats, perceived or otherwise and in this case — tragic as it may have been — their defense was justified."
"I'm relieved the taxpayers will not have to pay," Trutanich said at a City Hall news conference after the hearing. "However, as successful as this is, this result is no cause for celebration. As the father of four, I can only imagine the pain this family felt. As a former hard-core gang prosecutor, I can only imagine how our officers felt. They are tasked with preserving public safety."
The Arian family attorney told Los Angeles Daily News that this week's decision has left the victim's parents "devastated."
"They are in a state of shock. They firmly believed in the U.S. judicial system and they didn't think it would let them down," Galen said.
"The actions were just outrageous and reckless," Galen added. "The LAPD put the lives of so many innocent people in jeopardy."
Speaking to LA Weekly, Galen said officers displayed "the use of unnecessary, brutal, excessive police force" during last year's tragedy.
"Abdul was shot to death just a few hundred yards away from many major Southern Californian business and retail shopping centers. Since the shooting pictures have been revealed of stray bullets embedded into nearby office buildings and trees. A Porsche Car Dealership was also struck by bullets, puncturing holes in several cars. It is clear with their actions the LAPD showed little concern for their proximity to the public," he told LA Weekly.
Should the Arian family appeal the decision, Trutanich said he thinks the judge's latest decision will likely be upheld.
You can share this story on social media: