In Katrina aftermath, State Farm went out of its way to avoid paying claims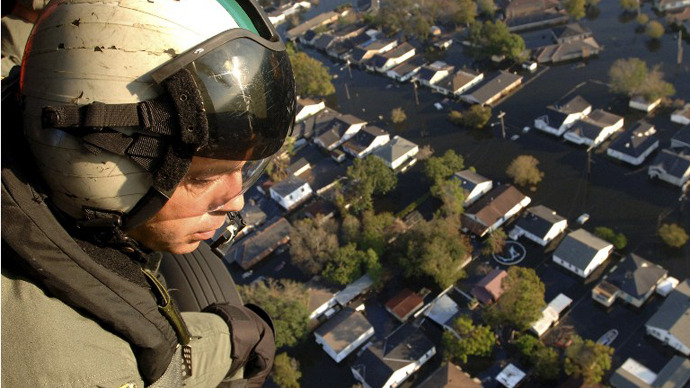 In what could well end up becoming the first in a number of similar legal defeats for State Farm insurance, a federal jury in Mississippi has charged the company with fraud relating to a 2005 claim made in the aftermath of Hurricane Katrina.
As ABC News first reported in 2006, two former State Farm employees, the Rigby sisters, came forward with accusations of having witnessed an epidemic of fraud at the company's offices in Biloxi and Gulfport. According to the two, company supervisors instructed staff to "bury" or modify damage reports to avoid payouts.

Even worse, the claim which was the subject of the recent court case had been hidden in a special file with a note reading "Put in Wind File. DO NOT Pay Bill. DO NOT discuss."

The recent charges pertain to one single case, in which State Farm reduced its liability by claiming that damage to a home was caused by flooding rather than high winds. Evidence provided by the Rigsby sisters proved that the company filed a false report in order to avoid paying the homeowner instead of the federal government's National Flood Insurance Program (NFIP).

Now, a judge has ordered State Farm to reimburse the NFIP for a sum of $250,000, and potentially more once additional damages are determined. The Sun Herald has reported that, though the money involved may not sound like much, it could set precedent that will push along a longer list of potential liabilities.

The jury was also shown evidence that a State Farm flood claims manager, Lecky King, believed that some policyholders were "so desperate" that they would have said anything to receive a payout. For their part, the Rigsbys were able to prove that the insurance company considered Katrina "a water storm," and trained its adjusters to enforce that view by influencing engineering companies and their damage assessments.

Still, considering the widespread damages and the complexities of the insurance liabilities involved, which can vary depending on policies, proving further instances of fraud may not be easy. During this latest case, the jury was presented with evidence of other nearby homes that, though they were totaled during Hurricane Katrina, were literally blown away before waters rose.

Hurricane Katrina proved to be the costliest single natural disaster in US history, killing 238 and causing billions in damage within the state of Mississippi alone. Following landfall, officials estimated that some 90% of structures along the state's coastline had been leveled by the storm, with a recorded water surge that was the highest in the history of the US.

Insurance companies faced massive losses following Katrina, which the Insurance Information Institute reports as the costliest disaster in the industry's history. A total of $41.1 billion was distributed amongst 1.7 million claims, with the state of Mississippi accounting for one third of losses.