Hurricane Sandy: Make or break for the US economy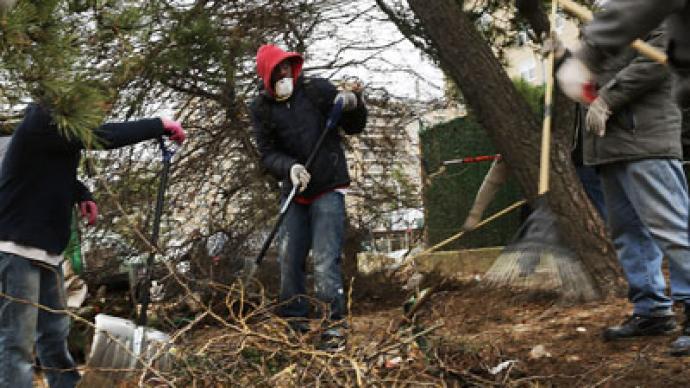 Hurricane Sandy is expected to bring the US economy an economic boost with up to $240bn in reconstruction and replacement purchases and add 0.5% to the countries GDP next year, surpassing the $50bn loss it caused.
"Construction costs to rebuild all that was lost will be more than simply replacement because a lot of the work will also involve fortifying structures," Bernard Baumohl, chief global economist at Economic Outlook told Bloomberg. "We'll see construction ramped up, and that's going to bring in jobs and an increase in demand for material of all sorts, and that's going to further stimulate the economy." Most of the reconstruction projects worth from $140 billion to $240 billion will take place in the first quarter of 2013, adding as much as 0.5% to growth, Goldman Sachs forecast. The economic boost from housing construction "would take place over several years," based on the experience of Hurricane Katrina, which struck the Gulf Coast in 2005, David Crowe, chief economist for National Association of Home Builders said.Families spend an average of $8,000 on furniture, appliances and landscaping for a new home, according to Crowe.In this regard, home improvement retailers and construction companies would be among the winners after Sandy as their sales surge.  Home Depot Inc. has seen its share rally 6.8% to a 12-year high, while shares of its rival Lowe rose 10% to a more than five-year high.  However, not all sectors will win back their losses, experts say. Economic output will slump by about $20 billion because "airlines don't get those flights back and restaurants don't get those meals back," said Mark Zandi, chief economist at Moody's Analytics IncEstimates of insured damage caused by Sandy range from $7 billion to $25 billion. When lost wages and sales are added, the total comes to $50 billion, according to catastrophe risk modeler Equecat Inc.  Sandy could cost the US economy up to $50bn or 0.5% in the fourth quarter after it disrupted industrial production, retail sales and employment, according to economists at Goldman Sachs Group Inc. If accurate, that estimate would put Sandy behind hurricane Katrina in 2005, which caused losses worth $146 bn. Sandy made landfall on October 29 near Atlantic City, New Jersey, and claimed more than 100 lives in 10 states. New York City and the New Jersey coast, one of the most densely populated regions of the country, suffered the most damage. More than 20,000 flights were cancelled and about 8.5 million homes and businesses from South Carolina to Maine were left without power. In New York stock trading was shut for weather for the first time since 1888, while economic activity in the city dipped 20%.