Sandy's other aftermath: Scammers make money from generosity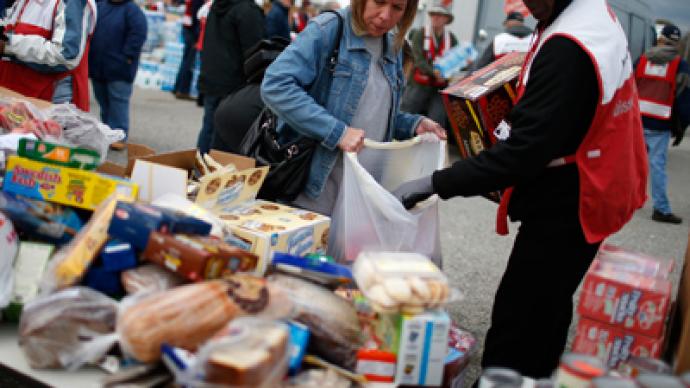 American police have managed to so far prevent mass looting in areas affected by Superstorm Sandy. But a new scandal is already gripping the public - scammers trying to profit on charity and donations meant to aid the Sandy victims.
"When a natural disaster strikes, it can leave tens of thousands of families in need of help, and it can also bring out the best in the American people. In this country, we look out for one another. We have each other's backs, because despite our differences, we are Americans first – and that's what Americans do," President Barack Obama says in an ad launched by the Red Cross. Republican leader Mitt Romney, also urged for wider public support to charity organizations dealing with the aftermath of Sandy, which ripped across the East Coast costing 109 lives and causing widespread property damage. But as many Americans readily ask what can be done to help those caught up in the disaster, some think capitalizing on the national grief is in fact  a business opportunity.Fortunately, looters have so far remained few and far between. Twenty-eight of them have been arrested in the Coney Island and Rockaway Beach. Gov. Chris Christie says there is no evidence of widespread looting in New Jersey and he hopes to keep it this way.The Sandy hurricane has proven to be the second worst after Katrina, which hit New Orleans in 2005. In the wake of the Katrina disaster, the National Center for Disaster Fraud had to be launched. Its feared this latest superstorm has also caused a wave of copycat scammers. The Federal Trade Commission site warns of various techniques that fake "charity seekers" use to dip into the pockets of those willing to help. For scammers anything that helps to maintain a contact with a victim will do, be it a phone call, an e-mail or a fake donation website.
'Donate' button hits USThe Sandy-related fraud is most likely going to affect not just the disaster zone but the web. Scammers were allegedly finding ways into the wallets of those trustful and sympathetic days before Sandy descended on the mid-Atlantic and the Northeast of the US.Around 1,100 web domains mentioning the Sandy hurricane have been registered over the last week in the US, most of them also mention such words as "aid" and "frankenstorm", Internet domain research site DomainTools says.Not all those websites have been made maliciously and many of them have a donate button embedded. But donations collected through such websites may fail to reach actual victims of Hurricane Sandy. However, merely stealing the donation, be it a moderate or a generous one, is not the sole motive.The main target of phishing scammers are the account details of those ready to help. The information the almsgiver provides (card number, full name, PayPal password, etc.) can be used to drain the account at a later date."Fraud is an unfortunate reality in post-disaster environments," said Joe Wehrle, president of the National Insurance Crime Bureau, a nonprofit group which deals with vehicle sales and repairs fraud. "As the initial recovery from Hurricane Sandy begins, there are people right now who are planning to converge on the affected areas in order to scam disaster victims out of their money."
'We've got you covered' spamAmerican web security companies started registering first online criminals back on October 30, but no malware has been spread yet (though there is still potential for that).Instead email inboxes got hit with spam messages going along the lines "Sandy got you down? We've got you covered!" – for those fearing for their insurances, or even "Don't let the storm ruin your diner plans" and "Avoid the Storm, Eat at chilis!"Links in such emails lead to sites which were created back in mid-October in a clear anticipation of massive victims, according to Sophos blogspot report. The fraud websites assuming Wikipedia looks try to huckster an iPhone lottery on visitors – but in the result people only get more pop-up ads; or else the websites try to squeeze out your personal information by asking to verify that you "qualify" for the prize.A letter or website asking for financial assistance to the victims of Hurricane Sandy and at the same time demanding personal information and/or a card number must be studied with scrutinity – chances that they might turn out to be charity-masked fraud schemes are growing higher, security experts warn.
Donate 'right here, right now'?Others complain of aggressive phone calls when random people demand immediate contributions. Sometimes phone IDs even make callers appear to be a well-known charity organizations. The aim behind such calls is to lay hands on personal information and credit card numbers. Modern technologies allowing criminals to appropriate any phone ID they wish, the scheme has become one of the most commonly used fraud methods.Before agreeing to donate, it is recommended to learn more about the charity organization the payment is supposed for – whatever the way you come across each other."You want to know what they do, what relief activities your contribution is going to fund," Bennett Weiner, chief operating officer of the BBB Wise Giving Alliance, told Life Inc. news portal. "You can't assume based on the name alone what activities your generosity is going to support."Now Americans find themselves between a rock and the hard place. with footage of devastated households pulling on heart strings, but fears over fraud remaining.On Thursday the American government urged citizens to report on cases of fraud connected with the aftermath of Sandy hurricane. The FBI, the Justice Department and the National Center for Disaster Fraud, issued a statement saying criminals always use natural disasters to their benefit and that American citizens must alert authorities in any case of fraud by calling a toll-free fraud center hotline 24 hours a day, seven days a week. Phone number: 866-720-5721