Other side of Sandy: Caribbean devastation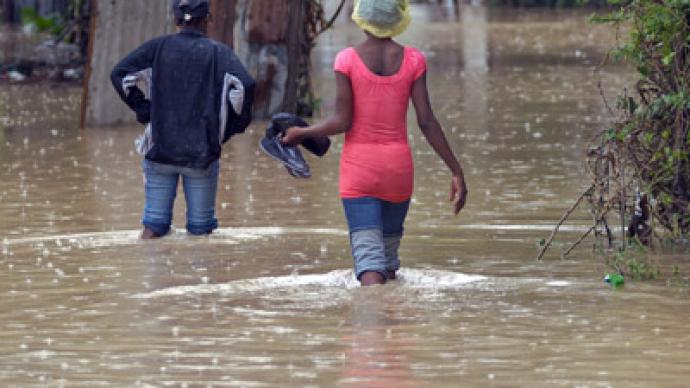 Hurricane Sandy's toll in the Caribbean amounts to at least 69 dead, thousands homeless and few funds available to rebuild. Yet, the Caribbean carnage remains largely behind the scenes as media spotlight focuses on the US.
Sandy took the lives of 52 people in Haiti, 11 in Cuba, two in the Bahamas, two in the Dominican Republic, one in Jamaica and one in Puerto Rico.In light of the difficulty to rebuild in some of the impoverished areas of the Caribbean, especially Haiti, the United Nations will be appealing for emergency aid. "Haiti is trying to get its house in order, but each time disaster strikes, the progress is interrupted," head of the UN's office for the co-ordination of humanitarian affairs Johan Peleman told The Guardian. "This country is exposed to devastating consequences by each storm. With every burst of rain, entire mountains are washed away."
Haiti was the worst hit
Jamaica, Cuba and the Bahamas took direct hits as Sandy approached them as a Category 1 and 2 storm. However, the majority of deaths and the most extensive damage fell upon Haiti, already devastated by the 2010 earthquake. The storm passed to the west of the country, but dumped more than 20 inches (51cm) of rain in 24 hours, causing rivers to overflow. The damage is especially significant there because the country already had about 400,000 homeless since the deadly earthquake. Now 200,000 more had been added to the list because of Sandy. During the storm nearly 17,800 people had to move to 131 temporary shelters. Haitian Ministry of Agriculture official Jean Debalio Jean-Jacques announced that Hurricane Sandy destroyed 70 per cent of the crops in southern Haiti and caused widespread deaths of livestock."We are facing a major crisis," stated Prime Minister Laurent Lamothe. On top of all that, Haiti was also emerging from the aftermath of Tropical Strom Isaac, which hit the country in August, and a cholera epidemic that killed thousands and afflicted more than half a million people.The Haitian government fears that the post-Sandy devastation may increase the number of cholera cases. Eighty-six new cases of cholera have already been reported in the last month and more are expected. The cholera outbreak began in October 2010 and many of the victims were from refugee camps established to host those who lost their houses in the quake.
More destruction
Sandy reached Jamaica last Wednesday as a Category 1 storm, killing one person, leaving dozens of families homeless and causing at least $16.5 million in damage, according to the country's Prime Minister Portia Simpson Miller."Even before the hurricane we faced serious economic challenges. This has been made worse by the passage of Hurricane Sandy," Simpson Miller said.The storm then hit Cuba early Thursday as a Category 2 hurricane, killing 11 in Santiago and Guantanamo provinces, causing 5,000 buildings to at least partially collapse and 30,000 others to lose their roofs. In addition, Sandy damaged essential crops including banana, coffee, bean and sugar.Public buildings such as schools and hospitals were also damaged.
Then as the storm turned to the Bahamas, it killed two people, toppled power poles and flooded streets. In Puerto Rico the storm killed one person on Friday and forced 100 families to evacuate from their homes to seek shelter elsewhere.In the Dominican Republic more than 18,100 people had to be evacuated as the storm destroyed bridges and isolated at least 130 communities. Flooding and heavy rains had damaged about 3,500 homes.
Difficulty repairing damage
Former secretary general of the Association of Caribbean States Norman Girvan strongly believes that other parties should pitch in to make the reconstruction possible."We should look at the Caribbean, because the hurricane has had an impact on Jamaica and Cuba and Haiti. One would like to see some form of Caricom [Caribbean Community] response to the severe infrastructural damage and human damage done in these countries, which unfortunately does not attract as much media attention as that in the US," he told The Guardian.It will be very difficult for Haiti to rebuild on its own."We'll have famine in the coming days," Kechner Toussaint, mayor of Abricots, a hard-hit community on Haiti's Southwestern tip, told BET. "It's an agricultural disaster."Also, John Chaloner at the charity Plan International told The Independent that in recent months there had been "demonstrations sparked by rising food prices". Faced with food shortages and a wider cholera outbreak, Haiti is at risk of not only failing to restore itself, but falling deeper into destruction and even civil unrest unless help arrives.
You can share this story on social media: