Former Pres. Carter calls diplomacy the way for solution in Syria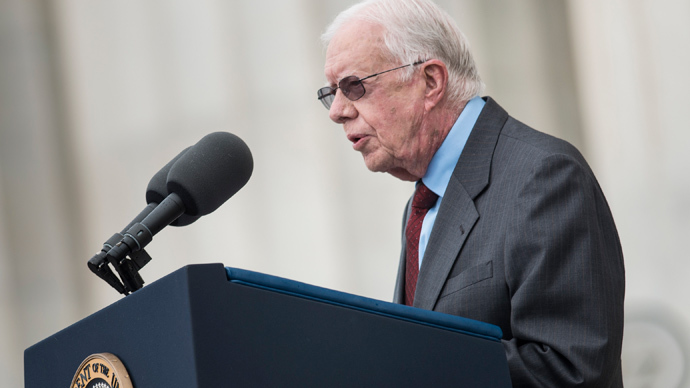 Another major name in United States foreign policy is urging the White House to avoid a military strike on Syria. Former US president Jimmy Carter is calling for a diplomatic solution to resolve the Syrian conflict without involving the US military.
The thirty-ninth president of the US has previously decried the use of military force against Syrian leader Bashar Assad over the reported use of chemical weapons, on Wednesday this week the Washington Post published a passionate op-ed from the former commander-in-chief calling for the White House to resolve its issues without entering into battle.  

Published only hours after US President Barack Obama said he was considering a Russian-brokered proposal that would disarm Syria of an arsenal of chemical weapons in order to divert an American missile strike, Carter cautioned that any use of military force could open the door for future problems, especially in light of recent talks involving the United Nations Security Council in lieu of launching an attack.
"The only way to be assured that Syrian chemical weapons will not be used in the future is not through a military strike but through a successful international effort," Carter wrote.
Carter stressed that Obama should embrace diplomacy though the United Nations process.
"Regardless of the postponed congressional vote regarding the use of military force, other actions should be taken to address the situation in Syria, including an urgent effort to convene without conditions the long-delayed peace conference the United States and Russia announced in May. A resolution in the UN General Assembly to condemn any further use of chemical weapons, regardless of perpetrator, would be approved overwhelmingly, and the United States should support Russia's proposal that Syria's chemical weapons be placed under UN control," he added. "A military strike by the United States is undesirable and will become unnecessary if this alternative proposal is strongly supported by the UN Security Council."
The White House has made repeated calls for a military strike on Assad's regime following a chemical weapons attack near Damascus on August 21 that took more than 1,400 lives. As a strike seemed to become increasingly imminent, Syria announced on Tuesday that it would consider surrendering an arsenal of warheads at the request of Russia.
Speaking from the White House early Wednesday, Obama administration press secretary Jay Carney said, "There is no question that the credible threat of US military force brought us this diplomatic open."
"Until two days ago, Syria did not even acknowledge that it possessed chemical weapons. We have seen more cooperation and helpful activity on this matter from the Russians in the last two days then we've seen in the last two years, and I think that is clearly because of the President's forceful comments about the need to hold Bashar al-Assad accountable for the use of chemical weapons against his own civilians," Carney said.
Lawmakers in Washington may still decide to authorize the use of military force against Assad's regime, but meanwhile Pres. Obama is awaiting the results of diplomatic discussions to determine how the Syrian leader should be reprimanded.
"The main goals of condemning the use of these outlawed weapons and preventing their further use can still be realized by concerted international action," Carter wrote.
The former president outlined many of the same pleas for diplomacy during a speech Tuesday at the Carter Center in Georgia. In the speech, he said it's still unknown who ordered the attack on Aug. 21.
"We have a situation where everyone agrees that chemical weapons were used, with varying accounts of how many people were killed ... But exactly who gave the orders is still unproven," Carter said.