Obama's Syria address reveals 'diplomatic chaos' in the US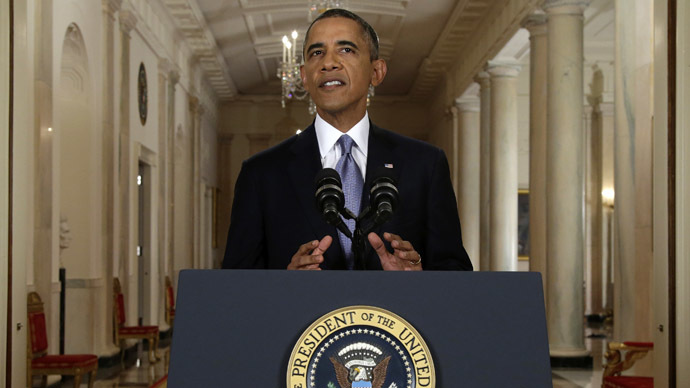 President Barack Obama's speech on Tuesday showed a very confusing picture of US policy, Manuel Ochsenreiter, a German journalist focusing on Syria, told RT. The president's address contained two messages "completely contradicting" each other, he said.
The journalist said that on one hand Obama had accused the Syrian government of using chemical weapons on its own population, calling for a strong response because it posed a threat to US national security, while on the other hand the president had to justify delaying intervention.
"This speech shows the diplomatic chaos in the US," Ochsenreiter said.
"We see the US president, the most powerful man in the world, being completely lonely with his position. If warmongering is coming from Western and US governments, he has no support of the population," he said.
If Obama continues pushing for a military decision for Syria, he seriously risks ruling a split nation, even if he manages to gain the upper hand in the Congress, Ochsenreiter said.
"He is in a very difficult and weak position right now," Ochsenreiter said, at the same time pointing out that even if Syria is stripped of its chemical weapons stockpile, there's no guarantee that the West won't find some other pretext for a military action against Damascus, as it was previously done with Iraq and Libya.
'No U-turn' from Obama
Though people in the US "overwhelmingly" oppose the idea of launching a military strike against Damascus, President Barack Obama clearly showed that he is still very interested in launching cruise missiles against Syria, Norman Solomon, founder and executive director of the Institute for Public Accuracy, told RT.
Even though Damascus has agreed to give up its chemical weapons stockpiles, this will not really change US policy toward Syria.
"It is more of a stall and a hesitation at an intersection, rather than a U-turn," Solomon said.
It was Russian President Vladimir Putin who showed Obama a diplomatic solution to the Syrian crisis, so at the moment the question is "whether President Obama is willing and able to take this chance for peace rather than remaining attached to some version of Shock and Awe over Damascus," Solomon said.
In his address to the nation, President Obama said that bombing Syria would be in America's national interest, a standard cliché that used to work for decades, but has failed this time, Solomon said.
"Most people in the US do not want to initiate yet another war in the interest of certain political elites in Washington," Solomon said. "That is the conflict right now between the lead policymakers in the nation's capital and most of the people in the country who do not want to initiate yet another war effort by the US government."
Despite the acknowledged political role of the Congress, "Obama has always reserved his right to violate the constitution unilaterally by ordering the US to attack," Solomon said.
Such an order would not only be politically damaging for Obama, but would also deprive the American people of much-needed money for sectors such as healthcare and education, Solomon said.
You can share this story on social media: