Obama asks Congress to delay Syria vote pending chem handover results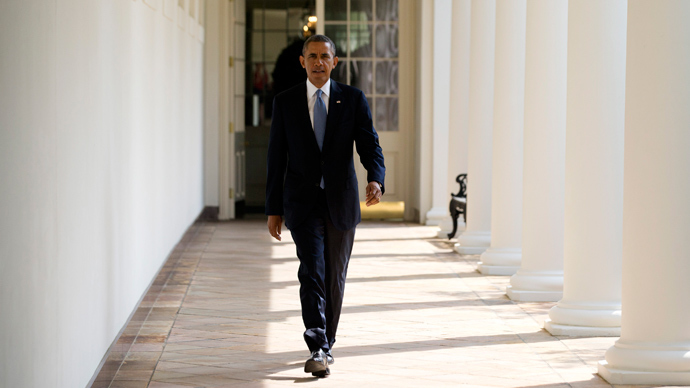 The use of the United States military to strike the regime of Syrian President Bashar al-Assad — once thought imminent — could be cancelled after the White House asked on Tuesday for Congress to postpone any vote to authorize an attack.
Amid a potential deal being brokered by Russia that would require Assad to surrender his arsenal of chemical weapons, US President Barack Obama urged lawmakers in Washington on Tuesday to delay a vote authorizing an American assault on the Syrian government.
Obama spent over an hour meeting with Senate Democrats on Tuesday, during which he reportedly told lawmakers to await the results of a potential compromise orchestrated between Russia and Syria.
"I think to give them an opportunity to put together a proposal that Russia has suggested is the right thing to do," Sen. Dianne Feinstein (D-California) told Bloomberg News after the sit-down with Mr. Obama. "He's inclined to try to do that."
The proposal, revealed earlier this week, would involve the surrendering of Assad's arsenal and the signing of his country's name to an international prohibition against chemical weapons. Syria has until now been absent from that agreement, and US officials are adamant that Assad's regime launched an attack on civilians near Damascus last month that killed over 1,400 people.
On his part, Assad has denied any involvement in the attack but has reportedly agreed to cooperate with Russia's plan.
After Russia asked Assad's government to surrender their warheads on Monday, Syrian Foreign Minister Walid al-Muallem said, "The Syrian Arab Republic welcomes Russia's initiative, based on the Syrian's government care about the lives of our people and security of our country."
US Secretary of State John Kerry initially responded to murmurings of a compromise by saying the White House would continue to urge Congress to authorize a strike, but by Tuesday the president was signing a much different song.
Sen. Dick Durbin (D-Illinois), the Senate Majority Whip, told CNN that Obama "asked for some time to work things out" during their meeting on Tuesday, and said the president wasn't opposed to waiting until next week before deciding how to proceed with any action aimed at Syria.
"What he wants is to check out the seriousness of the Syrian and the Russian willingness to get rid of those chemical weapons in Syria. He wants time to check it out," Senate Armed Services Committee Chairman Carl Levin (D-Michigan) told reporters after meeting with the president.
As news of an agreement surfaced mid-day Tuesday, Sec. Kerry said he is awaiting more details from Russian Foreign Minister Sergei Lavrov about a potential deal regarding the Syrian arms.
"He is sending those to us. They'll be coming informally in the course of the day. We'll have an opportunity to review them," Kerry said in a Google+ hangout interview.
Lavrov told reporters that same day that Russia was working on a "workable, clear, specific plan" to present to the international community.
"We're waiting for that proposal, but we're not waiting for long," Kerry responded.
Pres. Obama is slated to address the Syrian crisis during a televised announcement later Tuesday evening.
You can share this story on social media: