Assad: US 'should expect everything' if it strikes Syria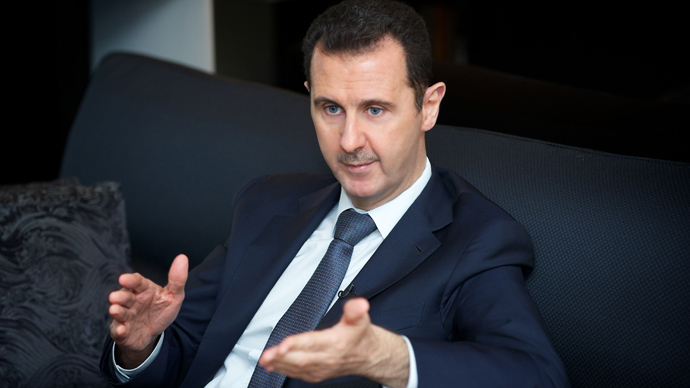 Syrian President Bashar Assad has warned that the United States should expect a retaliation if it launches a military strike against Syria in response to the alleged August 21 chemical attack.
Follow RT's LIVE UPDATES for the latest on Syria

"You should expect everything. Not necessarily from the government," Assad told CBS in an interview conducted in the presidential palace in Damascus. He went on to say that it is "not only the government" in the region. "You have different parties, you have different factions, you have different ideology."
Asked if he would mount a military response to any attack on Syria, Assad said "I am not fortune teller to tell you what's going to happen."
The US will "pay the price if you are not wise with dealing with terrorists," the Syrian president told 'CBS This Morning' co-host Charlie Rose in his first interview with American television in nearly two years.
This comes as American President Barack Obama is seeking to win an authorization from US Congress – that has been rather skeptical so far - for a 'limited' military strike against the Syrian government. The administration accused the Syrian government of ordering the use of chemical weapons in a Damascus suburb last month.
Assad, however, denied any involvement in the alleged attack.
"There is no evidence that I used chemical weapons against my own people," he said.
According to Assad, the government forces were not in the area of the chemical weapons attack on August 21.
"Our soldiers in another area were attacked chemically," he said. "They went to the hospital as casualties because of chemical weapons. But in the area where they said the government used chemical weapons we only had video and we only have pictures and allegations."

Assad stressed that there were no government forces in the area of the alleged chemical attack.

"Our forces, our police, our institutions don't exist there. How can you talk about what happened if you don't have evidence?"

US Secretary of State John Kerry, a forceful proponent of a military action against Syria, argued on Monday that Assad's repeated denials were "contradicted by facts." He described the Syrian president as "a man without credibility."

"We know that his regime gave orders to prepare for a chemical attack," Kerry told reporters in London, on the final leg of his trip to Europe in a bid to bolster EU support for a military strike. "We know by tracing it physically where the rockets came from and where they landed," he added.

Washington has referred to its intelligence and military communications as proof that the Assad government was behind the August attack in the Damascus suburbs. It also says it intercepted conversations involving Syrian officials during which they took responsibility for the attack. However, the administration has so far refused to make that evidence public.

In Assad's view, the explanation behind this is that they do not have any evidence.  He also said the current situation reminds him of the arguments that the then-President George W. Bush's administration used before launching an intervention against Iraq. He recalled "the precedent" with Secretary of State Colin Powell over a decade ago, when he presented to the United Nations what the US claimed to be evidence of Saddam Hussein possessing weapons of mass destruction.

"It was false and it was forged," Assad said.

You can share this story on social media: