White House: Evidence against Assad not 'beyond reasonable doubt' but passes 'common-sense test'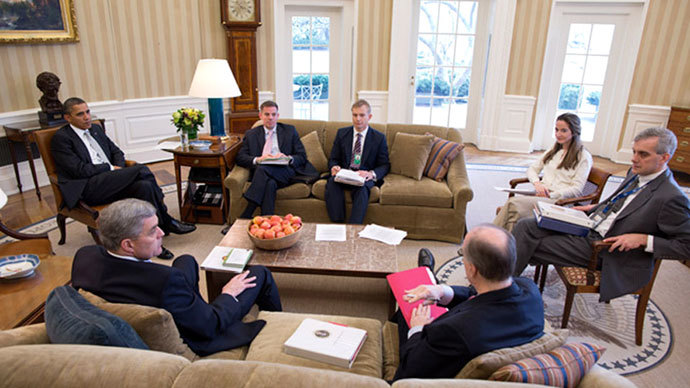 The White House says it has no "irrefutable" evidence that Syrian President Bashar Assad was behind the August gas attack in a Damascus suburb, but that a "strong common-sense test irrespective of the intelligence" suggests the government is responsible.
"We've seen the video proof of the outcome of those attacks," White House Chief of Staff Dennis McDonough told CNN, speaking of multiple clips which show victims of the suspected sarin attack in a Damascus suburb on August 21.
"All of that leads to a quite strong common-sense test irrespective of the intelligence that suggests that the regime carried this out. Now do we have a picture or do we have irrefutable beyond-a-reasonable-doubt evidence? This is not a court of law and intelligence does not work that way," he said.
McDonough made appearances on leading US talk shows in an effort to garner support for proposed military action against Syria ahead of next week's congressional vote. However, most lawmakers seem to be opposed to a US-led strike.
In an interview with NBC, the chief of staff stressed that"nobody is rebutting the intelligence; nobody doubts the intelligence."
The US says it has intercepted conversations involving Syrian officials during which they take responsibility for the attack. However, Washington has not made those conversations public.
The Obama administration has also referred to its satellite and signals intelligence, as well as military communications, as proof that the regime was preparing to use poisonous gas just days before the alleged attack took place.
Yet the administration has refused to let the public see the evidence allegedly connecting Assad to the crime - even though ample amounts of satellite imagery was released earlier by the US in order to demonstrate the consequences of the attacks.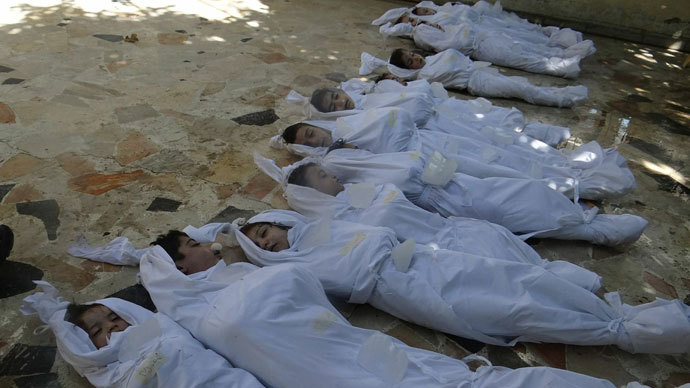 Experts question US evidence
With the evidence at hand, experts are struggling to agree on what really happened and are reluctant to place blame.
It is hard to explain why Assad would use chemical weapons on his own people at a time when his troops were doing so well on the ground - especially since UN observers were nearby at the time of the attack – former British military officer Charles Heyman told AP.
"We can't get our heads around this - why would any commander agree to rocketing a suburb of Damascus with chemical weapons for only a very short-term tactical gain for what is a long-term disaster," he said. Heyman edits 'The Armed Forces of the UK,' an authoritative bi-annual review of British forces.
Death toll numbers released by the US were also questioned. The Obama administration said that 1,429 people have died in 12 locations mostly east of Damascus. And although that number closely corresponds with figures from the Western-backed Syrian National Coalition, only 395 names of victims were released by the organization upon request.
The UK-based Syrian Observatory for Human Rights said that it counted victims by name and the current total is at 502. The organization questioned the US numbers and asked the administration for information regarding details of the higher death toll figure.

At the same time, Bild am Sonntag newspaper reported that German intelligence has evidence that Bashar Assad may not be personally behind the chemical attack. He even blocked requests from his military commanders to use chemical weapons, the German media outlet reported, citing unidentified, high-level national security sources.
The report is based on findings from phone calls intercepted by German surveillance deployed off the Syrian coast and run by the country's BND intelligence service.
The Syrian president himself unexpectedly emerged to state his case to a US audience during an interview to CBS, which is scheduled to be aired on Monday.
"There has been no evidence that I used chemical weapons against my own people," he was reported as saying.
The US has dismissed Assad's comments.
"It doesn't surprise us that someone who would kill thousands of his own people, including hundreds of children with poison gas, would also lie about it," deputy spokesperson at the National Security Council, Bernadette Meehan, told NBC News.
US Secretary of State John Kerry also dismissed Assad's statements, saying on Sunday that "the evidence speaks for itself." The comment was made during a meeting with Palestinian President Mahmoud Abbas regarding the July 29 resumption of Israel-Palestine peace talks, Reuters reported.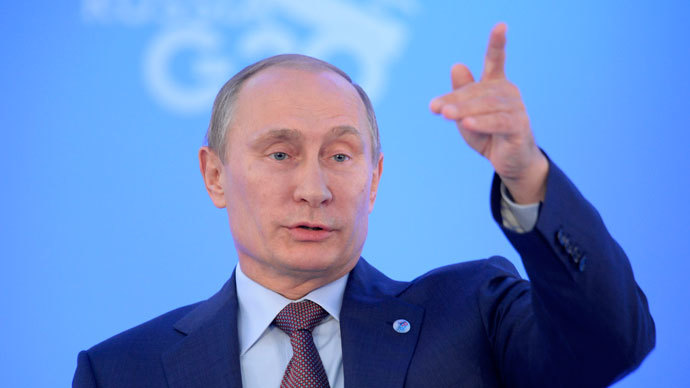 Russian President Vladimir Putin, Assad's most powerful ally, used the G20 summit in St. Petersburg to accuse the rebels of staging the attack.
Putin stressed that setting precedents of military action outside a UN Security Council resolution would mean that the world's smaller countries can no longer feel safe against the interests of more powerful ones.
At the end of the summit, only 12 of the G20 countries supported Washington's position on a military intervention.
You can share this story on social media: