Journalist jailed for recording police
Published time: 16 Aug, 2012 16:35
Edited time: 16 Aug, 2012 20:35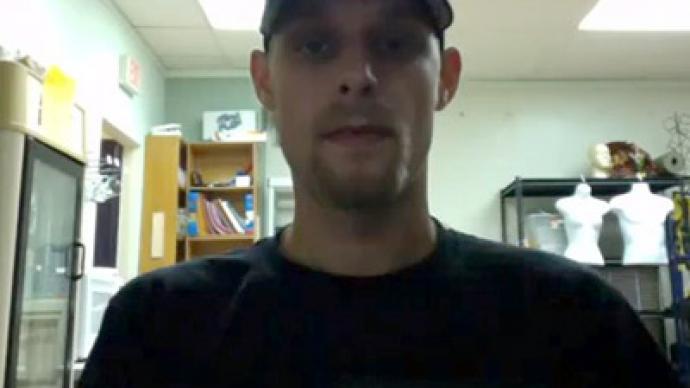 For filing a report on police brutality inside of a New Hampshire high school, investigative journalist and CopBlock.org founder Adam "Ademo" Mueller has been sentenced to three months in jail
A jury found Mueller guilty of illegal wiretapping, a charge that was introduced after he recorded conversations with Manchester, New Hampshire police Capt. Jonathan Hopkins, Manchester High School West Principal MaryEllen McGorry and school secretary Denise Michael, all allegedly without their consent. Mueller was putting together a report that centered on a video recorded at a local high school that showed a 17-year-old student being assaulted by a police officer. Mueller attempted to interview school officials and law enforcement officers while trying to get to the bottom of the case, and although he says he identified himself as a member of the media, his subjects filed a claim that he had recorded and published the conversations without authorization.
If convicted on all three charges of felony wiretapping, Mueller could have been sentenced to a maximum of seven years in prison. Authorities had offered him a plea deal, but he refused to take it.
"Here's how I see the offer: it's a stellar deal if I actually thought what I had done was wrong," Mueller wrote on CopBlock.org after first being charged. "First, I can't go against my principles and sign a deal that says I acknowledge my actions as wrong or illegal. Second, I'm not a hypocrite. How can I advocate refusing plea deals and sign one myself? I don't judge anyone who has taken pleas because each case/charge is different. Third, I am confident I can show a jury, with facts and logic, that I shouldn't be caged for my actions…. Let the circus begin!"
Despite being convicted and sentenced, he tells reporters that he will continue his fight and will work further with CopBLock, a website that aims to "curtail the all-too-common rights-violations and unaccountability that today exists."
"I don't regret what I did," Mueller says of his crime, Huffington Post reports. "I don't think jails were built for people who make phone calls or chalk buildings."
Mueller's conviction comes amid a nationwide fad that has focused on prosecuting Americans for exercising their First Amendment to free speech in instances where citizens have scribbled temporary messages in chalk on public sidewalks. Alex Schaefer, a Los Angeles-based artist arrested last month for chalking, has publically condemned the attack on constitutional rights.
"I hope people are shocked about the situation and my arrest," Schaefer tells LA Weekly. "I hope it creates a wave of publicity and gets people thinking about the situation — it's fucked."
In response to the case against CopBLock's Mueller, New Hampshire State Rep. Kevin Warden (R) tells the Associated Press that prosecuting him for recording and publishing the interviews is "a travesty and a total waste of taxpayer dollars."