Pay to learn the First Amendment or go to jail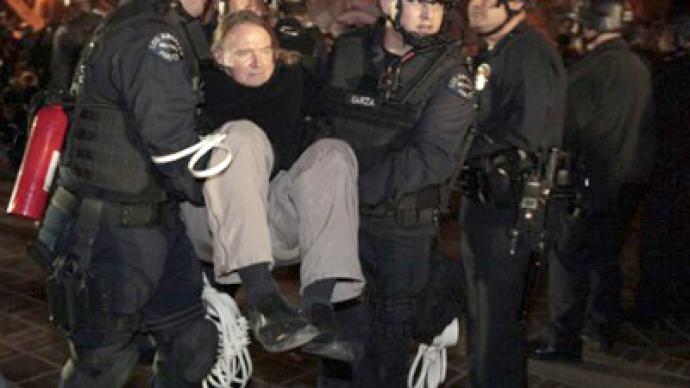 The US Constitution says that Congress shall make no law that limits the freedoms of speech, the press or the right of the people to peaceably assemble. In Los Angeles, however, authorities say that Americans don't quite "get it."
"The First Amendment is not absolute," Deputy City Attorney William Carter tells the Los Angeles Times. Just because the law of the land (literally) allows for peaceful protests doesn't mean it is really alright, says Carter. For the hundreds of demonstrators arrested during Occupy LA protests in recent months, they seem to think that the US Constitution is of actual importance. For the city officials though, those silly hippies don't know "habeas corpus" from their hacky sacks. In order to show them what the good old US of A is really about then, the city of Los Angeles is letting those charged with misdemeanors stemming from Occupy LA incidents to forego the legal system in exchange for taking a class on the First Amendment — for the price of $355 a pop.
Apparently if you want to preserve the law that says you can protest, you'll need to forget about the one that says you can have a trial by jury.
Authorities in Los Angeles already crushed constitutional rights by arresting hundreds of protesters for exercising their First Amendment in a series of demonstrations in the vein of the Occupy Wall Street movement, but are now offering accused criminals a chance to bypass those bogus charges by learning all about the Bill of Rights that is no longer applicable.
The move isn't just a slap in the face to protesters but a way to save LA from going under, reports the Times. Prosecuting the 350-plus protesters would seriously screw the Los Angeles legal system, clogging courtrooms and costing the city boatloads to process all the charges. Instead of wasting their money on charges they know won't stick, they are offering a get-out-of-court free card for a fee that will then go back to the city to make sure that those loving officers within the LAPD can afford to pepper-spray some more pesky protesters.
Attorney Cynthia Anderson-Barker adds to the Times that most of those arrested during the massive LAPD raid on the Occupy encampment in Los Angeles were held on $5,000 bail for upwards of two days for their alleged crimes. "Spending that much time in jail was definitely punishment enough," she says.
Was it really enough? Los Angeles prosecutors seem to think, hey, while we're at it, let's just smack them in the face with the Constitution.