Cop's 'ear' in your pocket: Cell phone tracking routine with US police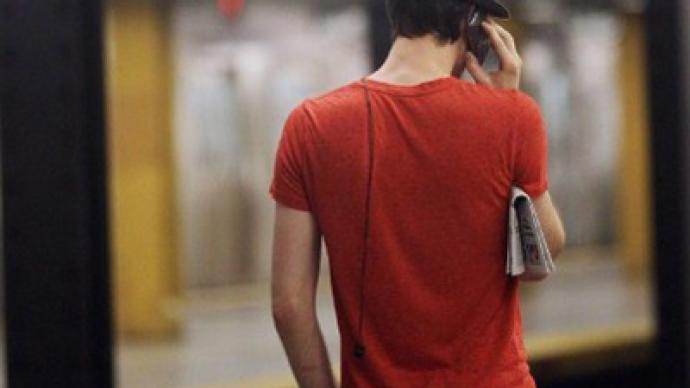 Keys, driver's license, cell phone…off we go! While an officer can only get your personal details by prompting you to take out the ID, your phone could give you away at the police's first request – a request neither you nor a court may ever learn of.
Cell phone tracking, previously associated with federal agents, now seems to have become routine for many police departments. A recent report by the American Civil Liberties Union (ACLU) shows that police have not only grown into the practice, but also drop the court warrant stage from the procedure. Over 200 police departments nationwide responded to the ACLU's pubic requests virtually acknowledging that they track cell phones. But only very few of the interviewed departments says they obtain a court warrant to tune in on a phone. Dozens of cell traces can be logged every month for both emergencies and routine investigations. This mainly includes following a phone registered with the network as it gets a wireless signal, a function which runs several times a minute and just cannot be turned off. Even this may expose a lot. "A person who knows all of another's travels can deduce whether he is a weekly churchgoer, a heavy drinker, a regular at the gym, an unfaithful husband, an outpatient receiving medical treatment, an associate of particular individuals or political groups – and not just one such fact about a person, but all such facts," the Federal Appeals Court in Washington, D.C., explained in 2010.In other instances of phone tracking, Californian local police were recommended by state prosecutors to download text messages from a turned-off phone by creating its "clone." Still, the ACLU's documents reveal no evidence of actual wiretapping. This comes as no surprise, especially with the same report remarking that many departments try to keep cell tracking secret. "Do not mention to the public or the media the use of cell phone technology or equipment used to locate the targeted subject," the Iowa City Police Department warned staff in a training manual quoted by The New York Times. It should also be kept out of police reports, advises the manual. Meanwhile, other police departments treat the practice as legitimate only in life-threatening emergencies like suicide calls, kidnapping or murder investigations. Officers say real-life benefits outweigh any legal issues. "We find people and it saves lives. It's pretty valuable, simply because there are so many people who have cell phones," said Roxann Ryan, a criminal analyst with Iowa's state intelligence branch. Another side to this story is cell phone companies themselves, who appear to have dug up a new business niche. A tipoff to the police can bring their departments anywhere from a few hundred dollars for locating the phone of a suspect to over $2,000 for a full-scale wiretap, the ACLU's records reveal. Law enforcement liaison teams have even drawn up a catalog of "surveillance fees" to police departments to determine a suspect's location, trace phone calls and texts or provide other services. Just how legitimate is the practice? In January, the US Supreme Court ruled that police placing a GPS locator on a drug suspect's car violated his right against unreasonable searches, a right secured by the Fourth Amendment. While a GPS device is hardly a cell phone, lawyers say the case raises questions on the standards of cell phone tracking as well. As Congress and about a dozen states are considering legislative proposals to tighten restrictions on the use of cell phone tracking, a gaping uncertainty remains over what information the police are entitled to get from cell companies, what evidence they must provide in return and when judges must get involved. A gadget race has made Americans vulnerable to spy systems. CIA Chief David Petraeus has already suggested linking refrigerators and other household items to the web to "change our notion of secrecy." Until a decisive ruling or law springs on gadgets and new technology to life, Americans' right to privacy will remain compromised.
You can share this story on social media: