Revealed: IRS targeted groups critical of government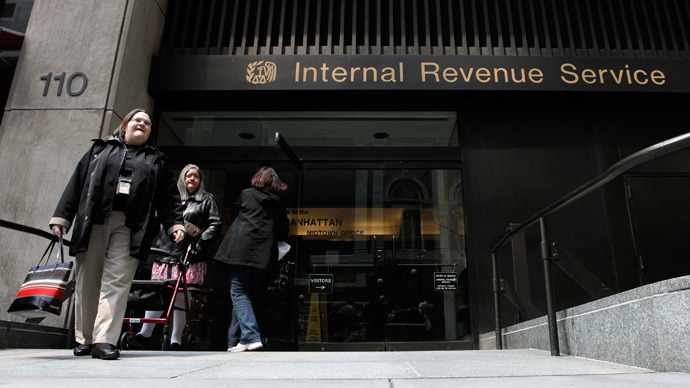 For years, the IRS has specifically gone after groups that criticized the US government, including tea party organizations and other conservative political groups. News of the targeted audits has caused many Americans to distrust the government.
President Barack Obama on Monday condemned such actions, announcing that the IRS must be "held fully accountable" if the agency did indeed screen conservatives intentionally -- particularly before the November elections. 
Non-profit groups that requested tax-exempt status were more frequently flagged for audits if they criticized "how the country is being run" or if they contained key words such as "Tea Party", according to an investigative report from the Treasury Inspector General for Tax Administration (TIGTA).
Seeking to "make America a better place to live" and criticizing government spending were also red flags for IRS workers deciding which groups to audit. Key words that generated closer scrutiny also included "Patriot" and "9/12".
The IRS began to illegally target "Tea Party or similar organizations" in March 2010, and by June 2011, more than 100 Tea Party-related tax-exempt applications had been flagged for review by the Cincinnati-based IRS unit responsible for overseeing them, according to a draft IRS inspector general report.
By July 2011, the IRS had gone from targeting groups with key words to targeting "organizations involved with political, lobbying or advocacy" – and by January 2012, the restrictions were changed to go after "political action type organizations involved in limiting/expanding government, educating on the Constitution and Bill of Rights, [and] social economic reform/movement," the TIGTA report states.
Facing allegations that the IRS was engaged in these practices, former Commissioner Doug Shulman testified before a congressional committee in March 2012, claiming that the agency does not target tax-exempt organizations based on their political affiliations or ideologies.
But during the month Schulman was testifying, the IRS changed its criteria for closer examination to include tax-exempt groups "with indicators of significant amounts of campaign intervention (raising questions as to exempt purpose and/or excess private benefit)," the investigative report states.
After news about the IRS scheme was reported on Friday, lawmakers have condemned the agency for what Sen. Susan Collins described as a "truly outrageous" breach of public trust.
"It contributes to the profound distrust that the American people have in government," she told CNN, adding that President Barack Obama should publicly condemn the agency.
Although the IRS practices targeted conservative groups, the agency established a distrust that could run deep among Americans of every political party.
"I don't care if you're a conservative, a liberal, a Democrat or a Republican, this should send a chill up your spine," Rep. Mike Rogers, chairman of the House Intelligence Committee, said while he was calling for a full investigation of IRS practices.
Rep. Darrell Issa told CNNon Sunday that this "kind of thing scares the American people to their core".
The IRS has long denied targeting conservative groups for audits, but last week admitted its illegal missteps. Louis Lerner, director of exempt organizations for the IRS,on Friday apologized for the "inappropriate" targeting of conservative organizations.
Facing pressure from lawmakers urging the IRS' public condemnation, the president on Monday denounced the targeting of conservative groups, but failed to directly accuse the IRS of its engagement in such actions.
"If in fact IRS personnel engaged in the kind of practices that have been reported on and were intentionally targeting conservative groups, then that's outrageous and there's no place for it – and they have to be held fully accountable," President Obama said Monday after learning of the allegations against the IRS through news reports.
The president said he does not want to judge the findings "prematurely". Both Democratic and Republican lawmakers have called for an extensive investigation into what Senate Finance Committee Chairman Max Baucus called an "outrageous abuse of power".
You can share this story on social media: