Rand Paul to deliver Tea Party State of the Union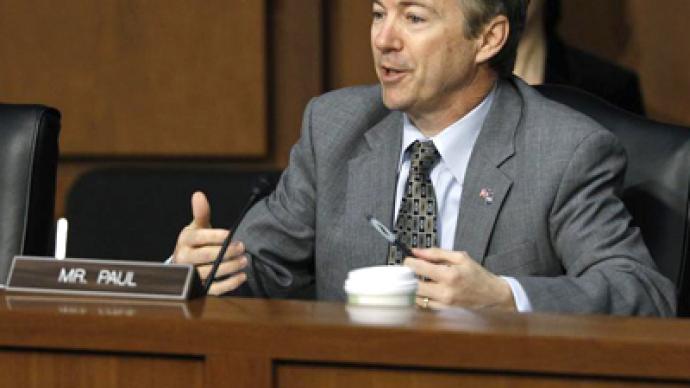 Senator Rand Paul (R-Kentucky) will give an official Tea Party retort after US President Barack Obama's State of the Union address is delivered on Tuesday, but the lawmaker says he doesn't expect his remarks to widen a rift among conservatives.
For the third year in a row, the Tea Party movement will respond to the democratic president's annual address, and this year they've chosen Sen. Paul to present the remarks. But even though the senator has been considered a likely candidate for the 2016 GOP race, Paul has also been portrayed as a politician with the ability to drive the Republican Party apart. A stingy libertarian and an opponent of Big Government and federal intervention of all sorts, Paul has been described by some members of the press as being capable of either reviving the floundering Republican Party or else killing it on his own. In comments delivered during the last year, he has made a handful of remarks that challenge the status quo of his own political party and has dared other right-wingers to make a change. He insists that his State of the Union response won't be one that divides, though."I see it as extra response, I don't see it as necessarily divisive," Sen. Paul told CNN over the weekend. If his remarks do make some Republicans weary, the GOP has elected Sen. Marco Rubio (R-Florida) to lead the party's official response, also to be delivered Tuesday evening after Pres. Obama's address. But while Sens. Paul and Rubio have both been labeled as products of the Tea Party movement, they don't agreed on all that much ideologically. "Call it the first showdown of the Republican 2016 presidential primaries," writes Dan Hirschhorn for the New York Daily News. "Who can talk back at Obama better?"Republican strategist Brad Todd tells the paper the onslaught of speeches is "like three corners of a triangle with Paul closer to Obama on foreign policy than he is to conservatives.""The only suspense about these speeches is whether Paul is going to rebut Senator Rubio or President Obama," says Todd.Speaking to CNN, Sen. Paul says he won't let this week's remarks do anything to speed split Republicans on the two."I won't say anything on there that necessarily is like, 'Oh, Marco Rubio's wrong.' He and I don't always agree, but the thing is, this isn't about he and I, this is about the tea party, which is a grassroots movement, a real movement, millions of Americans who are still concerned about some of the deal making that goes on in Washington. They're still concerned about the fact that we're borrowing $50,000 a second," he said. "None of the things I ran on as part of the tea party have been fixed," added Paul, who is expected to rehash some of those suggestions in his critique of Obama's address. On his part, the president is all but certain to make a focal point of his presentation the US economy. The results of a poll from Quinnipiac University released this week show that 35 percent of Americans want to hear detailed remarks from the president regarding the economy, with another 20 percent saying the federal deficit should take top priority.Sen. Paul has been a strong advocate of drastically reducing foreign aid and military spending in order to attempt to salvage the faltering economy. In his interview with CNN, Paul said, "We shouldn't send foreign aid or money to people who are burning our flag and chanting death to America. So I think I do represent a wing of the Republican Party who doesn't want to send good money after bad from Egypt, or to several of these countries. I would put strings on the money that goes to Pakistan. I would say to Pakistan, you don't get more money until you release the doctor who helped us get bin Laden."Also last year, Paul told CNN that the GOP is "in danger of becoming a dinosaur" and advocated drastic reform."We're not competitive in huge areas of the country. Some of the biggest states: California, New York Illinois, we're not competing anymore, in fact, we don't even advertise there," Sen. Paul told CNN. "So, we need a new type of Republican. I think that involves some of the ideas of Libertarian-leaning Republicans; people who believe in a less aggressive foreign policy; people who believe that we're not gonna deport 12 million Hispanic folks."Amy Kremer, chairwoman of Tea Party Express, tells the press that the rebuttals offered on Tuesday by both Sens. Paul and Rubio will discuss a more right-learning response to the economy."Americans are fed up with Washington politics that fail to address America's fiscal woes" she says. "Both Sen. Rubio and Sen. Paul will articulate pro-growth messages that will resonate with the American people."The senator from Kentucky likely won't stop there, though. In this week's sit-down from CNN, he condemned the current White House policy that reportedly authorizes the commander-in-chief to order the killing of US citizens with drone strikes conducted overseas. "It's very unseemly that a politician gets to decide the death of an American citizen," said Paul. "The president, a politician, Republican or Democrat, should never get to decide someone's death by flipping through some flash cards and saying, 'You want to kill him? Yeah, let's go ahead and kill him,'"Sen. Rubio's remarks presented on behalf of the Republican Party will begin immediately after Pres. Obama's State of the Union address concludes. Sen. Paul's statement will be made after Sen. Rubio's and will be carried live on the Internet from the Press Club in Washington, DC.
You can share this story on social media: