Hundreds of thousands might be left out of immigration reform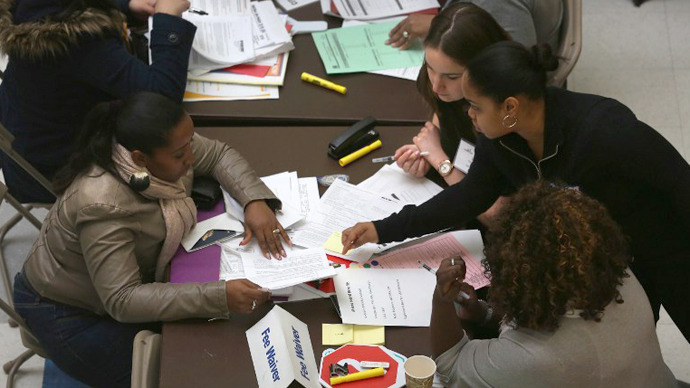 Some illegal immigrants hoping for a path to citizenship are about to have their dreams crushed: a bipartisan bill is making its way through Congress and could soon ban immigrants who recently arrived in the US from ever receiving legal status.
The legislation, which is expected to be introduced in the Senate next week, would prohibit all undocumented immigrants who arrived in the US after Dec. 31, 2011, from applying for legal status, an unnamed Senate aide told the Associated Press.
The conditions proposed by the bill have not yet been released, but the unnamed Senate aide claims that they would strike a harsh blow against hundreds of thousands of the 11 million immigrants who live in the US illegally.
Additionally, the bill would only allow undocumented immigrants with a clean criminal record and financial stability to be granted a path to citizenship. Those who arrived in 2012 or later, those who are poor, or those who can't prove that they arrived before the cutoff date will be unable to apply for legal status.
The conditions could prove problematic for those who have been illegally in the US for years, but can't prove it due to their lack of documents. Without such papers, illegal immigrants are often also unable to find well-paying jobs, and would therefore have a harder time proving financial stability.  
The new provisions that are allegedly outlined in the legislation may serve as a disappointment for hundreds of thousands of illegal immigrants, as well as immigrant rights groups. 
The conditions of the bill, which were negotiated upon by a bipartisan group of senators, four of which are Democrats and four of which are Republicans, is more likely to pass due to the collaborative effort by both parties.
"All issues that rise to the member level have been dealt with," Sen. Chuck Schumer, D-NY, told AP in a statement. "All that is left is the drafting."
Due to immense pressure from the Republican negotiators, the legislation harshly tackles illegal immigration both in the workplace and in regards to the path to citizenship. It would require all employers to verify their workers' legal statuses and increase border security. 
Illegal immigrants who qualify and apply for the 13-year path to citizenship could receive provisional legal status. The federal government would also create a new visa program allowing up to 200,000 low-skilled workers into the country each year to serve in low-paying industries, holding jobs as janitors, construction workers, nursing home attendants and other occupations.
Proponents of the measure claim that it would put most immigrants on a path to citizenship – but some opponents argue that hundreds of thousands would be excluded – and it is the excluded individuals that are likely to enter the spotlight as the bill moves through Congress.
The Senate Judiciary Committee has scheduled a hearing on the legislation for next Wednesday and will likely introduce the bill for a vote during the first or second week of May.
You can share this story on social media: