Rand Paul calls for reforms to bring illegal immigrants 'out of the shadows'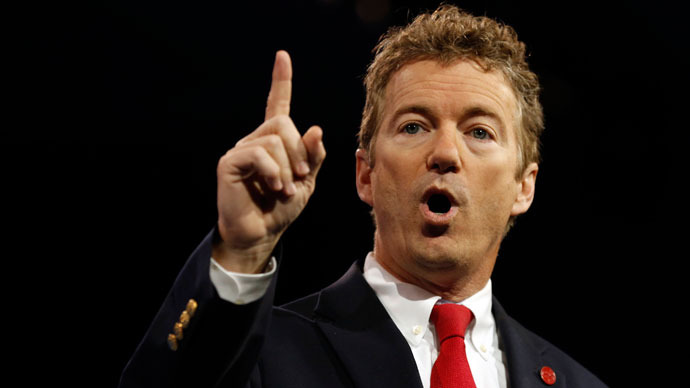 In another break from Republican Party orthodoxy, Kentucky Senator Rand Paul has said that America's illegal immigrants should be integrated into the tax system in a program that would eventually lead to the possibility of citizenship.
Speaking about immigration issues at the US Hispanic Chamber of Commerce, Paul said "Let's start that conversation by acknowledging we aren't going to deport" the millions of illegal immigrants living in the United States en masse.
"Prudence, compassion and thrift all point us toward the same goal: bringing these workers out of the shadows and into becoming and being taxpaying members of society," the Tea Party leader and suspected 2016 presidential candidate added.

The senator specified that his support for comprehensive immigration reform would be contingent upon tougher border security and confirmations from Congress that it has indeed been strengthened. He did not elaborate, though, on how the country's borders might be made safer.

"Immigration reform will not occur until conservative Republicans, like myself, become part of the solution. I am here today to begin that conversation and to be part of the solution," he said.
Paul never actually said the word "citizenship" in his 17-minute speech, with aides telling the press later that the senator's legislative aims would see illegal immigrants given a probationary status as legal workers. Such a program would then give such legal non-citizen workers the opportunity to obtain permanent residency through the coveted green card program. After five years, they would be eligible to apply for citizenship.
Immigration has become a central issue in recent months among Republicans, who suffered an election loss at the presidential polls in fall 2012 - with Latinos and other ethnic minorities providing a significant amount of support for the campaign of now second-term US President Barack Obama. Paul's comments came a day after a report from the Republican National Committee called on the party to get behind serious reform. However, that report did not go into detail about whether illegal immigrants should be given a shot at citizenship, which many on the right deride as 'amnesty.'
The details Paul provided differ from more common proposals, which tend to criminalize employers who hire illegal immigrants - a system the senator said essentially amounts to "making every business owner a policeman."
Republicans have been reaching out to Hispanic Americans in recent months, with Paul saying that without changes to its image and direction, the Republican Party risks political exile as a "permanent minority."

You can share this story on social media: