Rand Paul to return Senate budget surplus to Treasury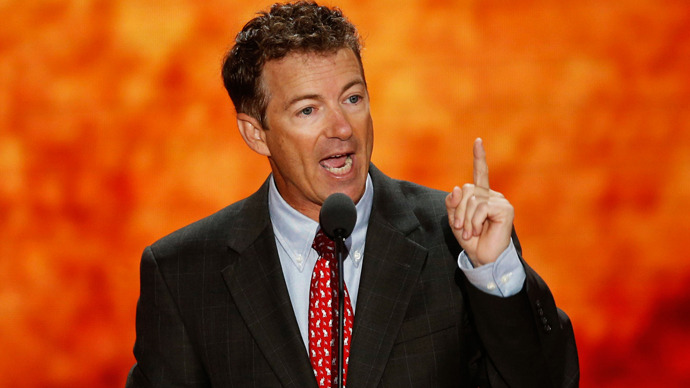 Sen. Rand Paul is taking a personal stand to reduce the $6 trillion deficit: The Kentucky senator is sending a $600,000 check to the US Treasury, returning part of his annual operating Senate budget rather than "recklessly spending" the money.
"I ran to stop the reckless spending, and I pledged to the people of Kentucky that I would work to keep their hard-earned money out of the hands of Washington bureaucrats whose irresponsible spending has threatened our country's economic health," Paul said at a press conference in his home state on Wednesday.
The senator claims he meticulously saved as much of his budget as he could and is now returning 20 percent of his total operating budget from 2012 to the Treasury. Last year, Paul returned $500,000 of his unspent budget to the department, which accounted for about 16 percent of his funds.
For two years in a row now, Paul has taken a stance against reckless spending at a time when Congress continues to debate on ways to cut the deficit.
"I ran to end the damaging process of elected officials acting as errand boys, competing to see who could bring back the biggest check and the most amount of pork," Paul said last year, after writing the half-million dollar check. "I hope this sets an example for the rest of government – at all levels. We can carry out our duties in a fiscally responsible way."
The average office budget for a member of the House of Representatives is $1.4 million a year, the Congressional Research Service reports. The average office budget for a member of the Senate is $3.2 million, depending on the state. Staff salaries account for about 70 percent of the budget, with the remainder going to administrative, operation and travel costs. But while some members may choose to travel every weekend and spend their budget freely, Paul has long advocated for members of Congress to personally help reduce the deficit by being more conscientious about the use of their money.
Many members of Congress have expressed deep concern over the fiscal cliff and wasteful government spending, without applying the same standards to their own financial decisions. Kansas Sen. Jerry Moran, who pledged to cut government spending, spent more than any other senator in the fiscal year 2012. Moran had only $18,000 of his $3 million annual office budget remaining at the end of the fiscal year – and might have even less, since late bills can arrive for up to two years, USA Today reports.
Few legislators return as much of their budget as Paul, and the Kentucky Senator plans to introduce new legislation this year that would provide federal employees with incentives to identify and eliminate wasteful programs in the agencies they work for, according to a press release published by Paul's office.
You can share this story on social media: