Members of Congress will continue to receive free copies of Hustler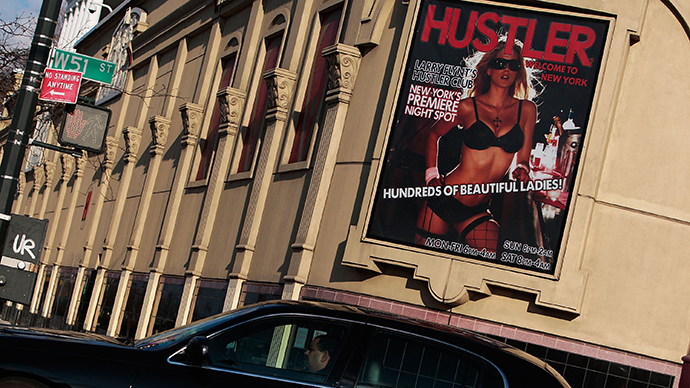 Hustler Magazine is well aware that copies of the 535 issues it sends free of charge to Capitol Hill every month are likely ending up in the trash, but the pornography publication isn't about to cancel those complimentary congressional subscriptions.
Every lawmaker in the United States Senate and House of Representatives has been sent a copy of Larry Flynt's adult magazine since 1983, and the following year the publisher even went to court with the US Postal Service after 260 congressmen complained.
Thirty years later, Hustler spokesperson Arthur Sando now tells the National Journal that he's sure some of those monthly issues aren't being enjoyed as much as other unsolicited mail, but the magazine shows no sign of stopping.
"We assume, at this point, that staff members are either reading it or tossing it," Sando told the Journal's Matt Vasilogambros.
According to Vasilogambros, in fact, many House and Senate staffers have actually found their own, unique ways of getting use from the monthly delivery.
On Thursday, the National Journal printed a handful of examples from congressional staff members who explained anonymously how they handle what has simply become routine for many.
"I let interns know they will receive an interesting magazine and they should just throw it away," one unnamed staffer told Vasilogambros.
"I 'forget' to mention it to interns and wait to watch the look of horror on their face when they open it in a congressional office," said another.
Others, however, have put a bit more effort into their monthly magazine pranking.
"I have a friend that I asked one day if he liked to read," recalled another anonymous staffer. "He said, 'Sure, I read a bit.' Since then, I have sent him every random book our office has received, including a couple Hustlers for some refreshing material. He still has no idea it's me."
"For a while, the interns, after their initial shock and befuddlement, were directed to save the Hustlers," added another. "We eventually gave a coworker the whole year's supply for Secret Santa and then she would mail them to her boyfriend in Iraq. Certainly one of the least-heralded ways the office supported our troops."
More than three decades ago, Flynt began sending the complimentary copies of his controversial magazine, accompanied at first with a letter saying they were being mailed so that congressmembers would be "well informed on all social issues and trends."
"I felt that they should be informed with what's going on in the rest of the world," Flynt recalled to the Salt Lake Tribune in a 2006 interview. "Some of them didn't appreciate it much."
The US District Court for the District of Columbia said in 1986 that Flynt couldn't be stopped from sending the copies because "An order prohibiting even just the mailing of Hustler to Congress would deny our 'profound national commitment to the principle that debate on public issues should be uninhibited, robust, and wide-open....,'" quoting from an earlier, precedent-setting case.
"Unlike solicitations sent to the home, mailings to Congress may contribute, for better or worse, to public dialogue and discussion," the court ruled.