Rand Paul loses war to remove Larry Flynt's subsidies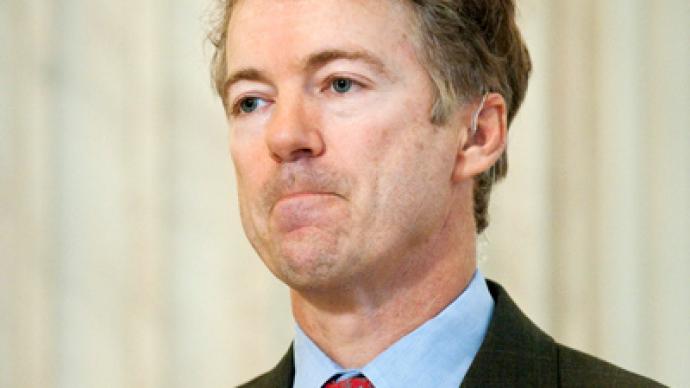 Porn mogul Larry Flynt has won a battle in Washington, but this time the Hustler magazine publisher wasn't being smeared for peddling smut: Senator Rand Paul asked lawmakers to remove government subsidiaries for fellows such as Flynt.
Sen. Paul (R-Kentucky) was unsuccessful in having an amendment tacked on to the Farm Bill on Tuesday that would have been bad news for Flynt and a handful of other Americans who receive government subsidiaries for owning farms, despite being already substantially well-off. Sen. Paul was asking his fellow lawmakers to put a provision on the act that would limit subsidiaries for significantly wealthy farmers, name checking Flynt while appearing on Capitol Hill. "A good question for the Senate might be, what do Scottie Pippen, Larry Flynt, and David Rockefeller have in common?" Paul asked his fellow lawmakers this week. "The answer would be that besides being very rich, they've all gotten farm subsidies in the past.""Nine percent of farmers earn more than $250,000 worth of gross income," Paul added. "This would limit their payments. Currently nine percent of farmers are receiving nearly a third of the benefits."The measure was defeated by a vote of 84 to 15 after Senate Agriculture Committee Chairman Debbie Stabenow (D-Michigan) insisted that, not taking into account Sen. Paul's amendment, the bill already limits subsidies for wealthy farmers. The farm bill cuts crop subsidies by $13 billion over a decade, reports Raw Story. Stabenow said in a statement that, excluding Rand Paul's proposal, America's deficit could be reduced by as much as $23 billion by "eliminating unnecessary direct payment subsidies, consolidating programs to end duplication and cracking down on food assistance abuse." According to the Congressional Budget Office, Paul's proposed amendment would have only saved a comparably insignificant $7 billion.