Hitler's 'Mein Kampf' becomes e-book blockbuster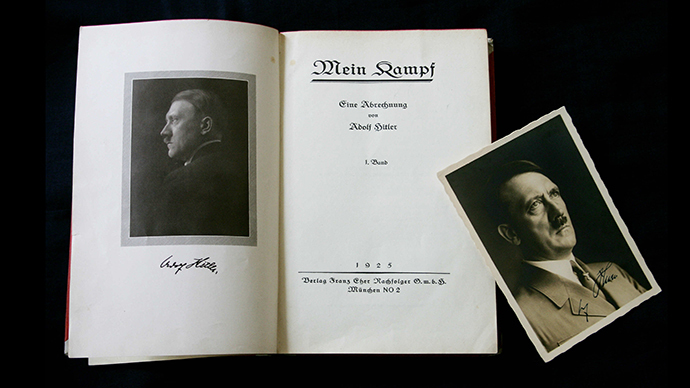 ​Adolf Hitler's magnum opus Mein Kampf is experiencing a surge in sales, and some say that the Nazi leader's manifesto is becoming popular nearly a century after being published thanks to the anonymous readers who purchase e-book editions.
Digital versions of Mein Kampf appeared twice last week on the list of the 20 most popular political books for sale on iTunes, and one edition currently has the top place on Amazon's roster of best-selling titles in the category of propaganda and political psychology.
An article on the unexpected resurgence penned this week by journalist Chris Faraone has exploded on the web, and to ABC News he said that he thinks the relative anonymity maintained by purchasing e-books of controversial classics is what's driving up sales.
"These are things that people would be embarrassed to read otherwise," Faraone, explained to ABC. "Books that people would probably be a bit more embarrassed to read or display or buy in public, they are more than willing to buy on their Kindle, or iPads."
Indeed, paper printed editions of Mein Kampf haven't appeared on the New York Times' list of best-selling non-fiction works since the first English edition was released in the United States back in 1939.
According to Faraone, however, 2013 was "a banner digital year" for the book.
"On Amazon, there are more than 100 versions of Mein Kampf for sale in every conceivable print and audio format, from antique hardbacks to brand-new paperbacks. Of those 100 iterations, just six are e-books — yet all six of them rank among the 10 best-selling versions overall. And those are just the ones people are paying for," he explained in a blog post published this week on the website Vocativ.com.
Faraone wrote that sales of Mein Kampf started to surge last year when a 99 cent version for the Kindle e-reader was released by a California-based publisher who admitted that, even with great sales, there have been forced to wrestle with "a moral dilemma in promotion."
"I have not heavily promoted the book and decided, for the most part, to let it spread among those who have a true historical and academic interest naturally," Elite Minds President Michael Ford told Faraone.
To the surprise of many, though, Mein Kamp has not needed a lot of extra promotion in order to move copies. All it needed, he suggests, was being able to be brought into the homes and hands of readers without risking embarrassment or ridicule at the checkout station of a brick and mortar bookstore.
"People might not have wanted to buyMein Kampfat Borders or have it delivered to their home or displayed on their living room bookshelf, let alone get spotted reading it on a subway," Faraone wrote, "but judging by hundreds of customer comments online, readers like that digital copies can be quietly perused then dropped into a folder or deleted."
"With digital readers, no one faces the stigma of having a copy of Mein Kampf on their bookshelf or risks it being seen on a table and having visitors make false assumptions about their reasons for owning it. They can read it in the subway without fear of being mistaken for a racist just because they want to learn about history," Ford of Elite Minds added to ABC's report.
Not everyone is convinced that the Hitler autobiography will be just that easily forgotten, though. "While the academic study of Mein Kampf is certainly legitimate, the spike in e-book sales likely comes from neo-Nazis and skinheads idolizing the greatest monster in history," World Jewish Congress CEO Robert Singer told ABC in an emailed statement this week.
"We think that responsible companies shouldn't profiteer from the sales of hate books, or at least should donate the profits to help the victims of anti-Semitism, racism and other like bigotries," Singer said.
You can share this story on social media: