No medals for drone pilots: Hagel puts a hold on cyberwarfare award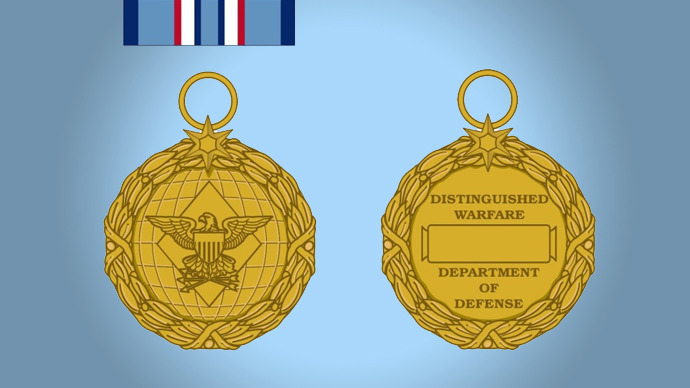 Only two weeks into his role as the head of the Pentagon, Defense Secretary Chuck Hagel has ordered the DoD to stop production on a medal that would have been awarded military drone pilots.
Sec. Hagel took control of the Pentagon from former-Sec. Leon Panetta just recently on Feb. 27, and has issued only few orders since then. On Tuesday this week, though, the Washington Post reported that the Defense Department would momentarily halt plans for a Distinguished Warfare Medal per the secretary's request.
The award, initially reported by RT in 2012, was formally revealed days before Sec. Hagel entered office. It was approved by his predecessor, Sec. Panetta, and was expected to be offered in the coming months to servicemen who, while vital to the US military, don't necessarily ever enter the battlefield.
When the Associated Press reported on the medal last month, they said sources claimed it "will be awarded to individuals for 'extraordinary achievement' related to a military operation." Unlike other combat awards, though, the Distinguished Warfare Medal was expected to be something that could be obtained without ever leaving the control room of the drone command centers that are often thousands of miles away from the battlefield.
"The medal could go to service members who never set foot in a combat zone, but launch drone strikes or cyberattacks that can kill or disable an enemy," the AP reported last month.
Also separating the Distinguished Warfare Medal from other awards was that this one ranked about both the Bronze Star and the Purple Heart, two of the military's most respected honors. Sec. Hagel, 66, was the recipient of two Purple Hearts while serving in the Vietnam War.
For now, though, plans for the medal will be put on hold. Sec. Hagel has asked the military to halt production while a 30-day study is launched to determine if drone pilots and other remotely-located servicemen could be awarded without being actually deployed. Washington Post reporter Karen DeYoung says Gen. Martin Dempsey, chairman of the Joint Chiefs of Staff, will have one month to conduct that study and make his determination.
The Post says that a defense official speaking on condition of anonymity confirmed that a request from Senate Armed Services Committee Chairman Carl Levin (D-Mich.) and James M. Inhofe (R-Okla.) to reconsider the award was on his desk when he returned from Afghanistan on Monday. The source says that Sec. Hagel signed his name to a directive later in the day, effectively halting plans for the medal while a thorough review is launched.
In writing Hagel, Sens. Levin and Inhofe said that while they were "supportive of the new medal," they had concerns "that it is given precedence above awards earned by service members for actions on the battlefield."
"Hagel's obviously new, and he's going to take a fresh look," the source tells the paper.
You can share this story on social media: