US will not scale back drone warfare – Panetta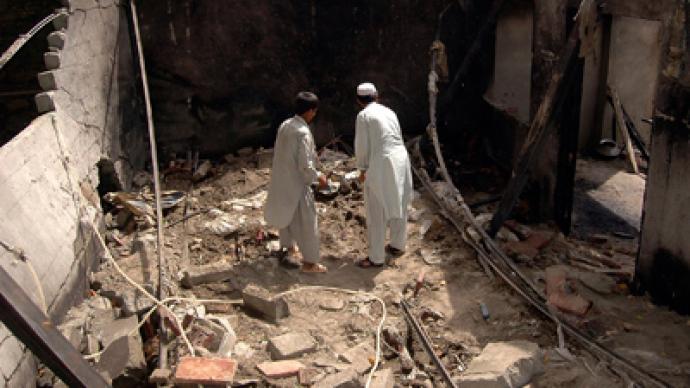 The US is engaged in a global war on terror, and drone strikes are an effective tool to eliminate Al-Qaeda militants planning terror attacks on America, US Secretary of Defense Leon Panetta told AFP, adding that drone operations should stay covert.
The US will not curtail its extrajudicial assassinations in Pakistan, Somalia and Yemen, Panetta said in a farewell interview: "We are in a war. We're in a war on terrorism and we've been in that war since 9/11."
"The whole purpose of our operations were aimed at those who attacked this country and killed 3,000 innocent people in New York [on 9/11] as well as 200 people here at the Pentagon," he said.
Over a decade has passed since the beginning of the global war on terror; in that time, two countries were occupied by the US, and the mastermind of the 9/11 attacks, Osama Bin Ladenm was shot dead by American marines. Still, the war on terror must continue, Panetta said.
"I think it depends on the nature of the threat that we're confronting," he explained.
Since terror threats continue to originate in Muslim countries – from Afghanistan in 2001 to Yemen in 2013 – it is unlikely the US will scale back its drone program in the foreseeable future.
Though US drones assassinate Al-Qaeda operatives in these countries without a court verdict or any form of due process, Panetta said that those governments are "pursuing the same goal" as the US. He said that the Yemeni government, for example, is strongly in favor of the US drone program.
But in October 2012, Pakistani Interior Minister Rehman Malik claimed that the majority of the people killed by American drones in Pakistan are civilians.A US study in September 2012 revealed that only 2 percent of those killed in drone strike in Pakistan are actually top militants."I think we had a responsibility to use whatever technology we could to be able to go after those who not only conducted that attack but were planning to continue to attack this country," Panetta said.The departing US Secretary of Defense also rejected the idea that overseas drone operations should be turned over from CIA control to the US military, which would require open reporting on every operation: "When you got those kind of operations where, because of the nature of the country you're in or the nature of the situation you're dealing with, it's got to be covert."An avid supporter of drone warfare, Panetta was largely responsible for the dramatic increase in drone attacks in Pakistan when he served as head of the CIA from 2009 to 2011. As the CIA director, he likely knew that the Hellfire missiles shot from drones have killed hundreds – if not thousands – of civilians, including children.But the drone program has only expanded in recent years. At the start of 2013, the CIA escalated its use of drones in Pakistan, launching seven deadly strikes during the first 10 days of 2013 and killing at least 40 people, 11 of whom may have been civilians.Because of the widespread claims that drone attacks are war crimes and an encroachment on national sovereignty, in January 2013 theUN launched a probe into civilian casualties from US and UK drone strikes and their legal implications.
You can share this story on social media: