'You must own a gun': Georgia town passes mandatory firearms law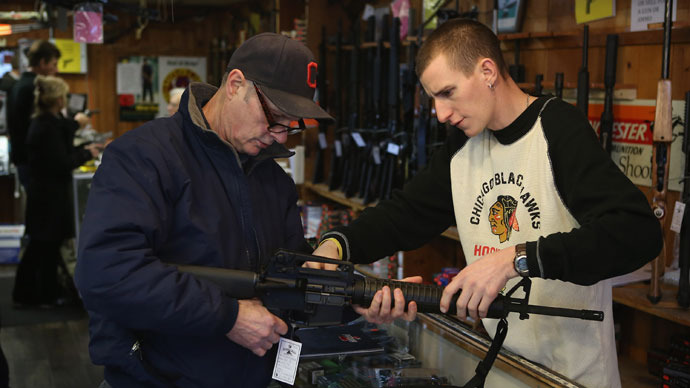 A small southern American town makes the Second Amendment right of US citizens to bear arms an obligatory duty.
Welcome to Nelson, Georgia, a rural town about 50 miles (80 km) north of Atlanta that passed on Monday the 'Family Protection Ordinance', which requires the head of each household to own a gun and ammunition.
"We're making a statement," City Council member Jackie Jarrett told the Atlanta Journal-Constitution. "If you plan on doing us harm, we'll be armed."
Jarrett emphasized that the law grants liberal loopholes for those who do not wish to follow the new legal code.
In addition to people who are mentally or physically handicapped, an exception to the law is given to "paupers or [those] who conscientiously oppose maintaining firearms as a result of beliefs or religious doctrine," he noted.
Jarrett said he supported the legislation because he is concerned about the future of his community.
"Crime is moving on up the road," he warned. "Subdivisions are opening up, and we don't know who those people are."
Admitting that the legislation is largely symbolic, Councilman Duane Cronic, who introduced the measure last month, said the law will serve as an effective deterrent to crime, comparing it to homes that warn of a security system on the premise, even when there may be none.
"This is like a big security sign for our city," Cronic said.
Nelson City Council says the measure - which closely mirrors one adopted in the 1980s in Kennesaw, Georgia, that supporters say has tamped down crime rates - has been warmly endorsed by this community of 1,300 people.
The unanimous vote places Nelson front and center in a heated debate that has polarized the nation between gun rights advocates and those who believe it is time to lock up the country's estimated 250 million privately-owned firearms.
US President Barack Obama, in the wake of the Sandy Hook school shooting on December 14 that left 26 people dead, the majority of them young children, has pledged to fight for gun control legislation, including universal background checks on gun purchases, an assault weapons ban, and limiting magazine capacity.
The influential National Rifle Association (NRA), however, is passionately opposed to government background checks like the one put forward by New York Senator Chuck Schumer, arguing that a national registry on gun owners would set the stage for gun confiscation.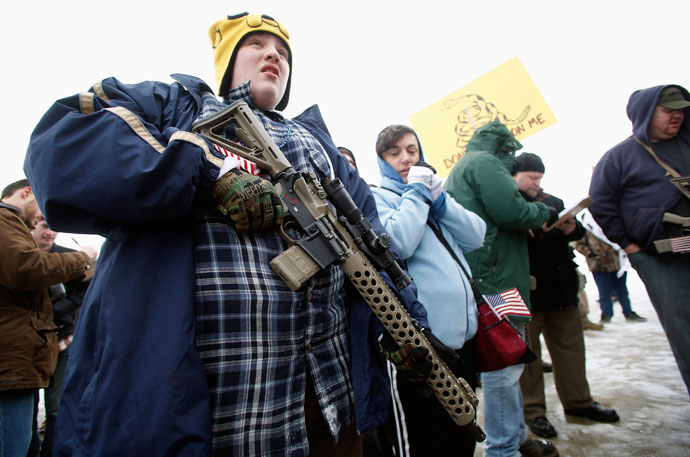 In fact, the NRA says more guns – not fewer – will make American communities safer.
The powerful gun lobby - which has seen its membership numbers soar at the same time as cases of tragic shootings have increased - has called on US Congress to provide funds for the hiring of armed police officers in every US school to protect students.
Justin Dupuy, president of the Armed Citizen Project, said people have a right to protect themselves with guns because law enforcement agencies are usually arrive on the scene only after a crime has been committed.
"You have a much better chance of defending yourself with a firearm than without one," Dupuy, told RT. "Law enforcement officials can only do their jobs to a certain extent…In a home-invasion situation, they're only there to roll out the crime scene tape."
If guns are taken from people, the only ones going to relinquish them are the ones who are following the rules in the first place, he added.
Not every US community, however, believes that more guns in the hands of more people will solve America's gun violence issue.
In the state of Connecticut, for example, where the Sandy Hook tragedy occurred in the town of Newtown, a series of new gun regulations have just been passed. Following weeks of heated debate, the state will enact a new registry for high-capacity magazines, as well as background checks for gun purchases.
According to state Senator Donald Williams, Jr., Connecticut now has the "strongest and most comprehensive bill in the US" on gun control.
Meanwhile, the citizens of Nelson, Georgia, like many other communities across the country, seem determined to protect the message of the Second Amendment at any cost, guaranteeing many more passionate debates on the issue in the future.
You can share this story on social media: