FDA approves first-of-its-kind heroin overdose antidote for prescription use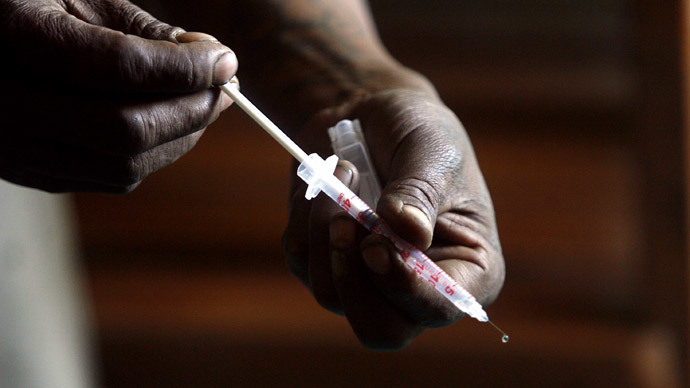 Federal regulators in the United States have signed-off on a new medical device that can reverse the effects of opioid overdoses by allowing for the easy administration of a life-saving antidote.
Officials at the US Food and Drug Administration said on Thursday that they've decided to approve Evzio, an first-of-its-kind injection-style tool that is intended to allow for the quick delivery of a dose of the drug naloxone to someone suffering from a potentially fatal OD.
Naloxone is typically only administered in emergency rooms and ambulances in instances where a shot of the solution is one of the only options available to counter potentially-fatal overdoses brought on by an excess of opioids, including heroin and opioid-derived prescription narcotics. And while it's currently available in spray form from certain pharmacies in a select parts of the country, this week's decision aims to ensure that overdoses are more easily countered as opioid abuse continues to be a rampant problem in America.
The FDA claims that more than 16,000 people die each year in the US because of opioid overdoses, and last month US Attorney General Eric Holder said the Department of Justice declared heroin abuse an "urgent public health crisis." In 2013, the US Centers for Disease Control and Prevention reported the number of overdose-induced deaths has steadily increased for over a decade now.
FDA Commissioner Margaret Hamburg said in a statement issued Thursday that "the larger goal is to reduce the need for products like these by preventing opioid addiction and abuse," while acknowledging at the same time that "extremely important innovations" like the Evzio "will help to save lives."
According to the FDA, Evzio will be easy to administer — the device delivers verbal cues to the person administering the drug, and the Associated Press equated the tool as being similar to the defibrillators that were formerly only found in hospital but have since become common place in public spaces across the world.
"Making this product available could save lives by facilitating earlier use of the drug in emergency situations," Bob Rappaport, head of the FDA division that reviews such products, said in a statement.
Prior to this week's decision to make Evizio available with a doctor's prescription, 19 states across the US permitted physicians to sign scripts that allow their patients to receive naloxone in nasal spray form from pharmacies supplied with the antidote.
Scott Burris, a professor of law at Temple University in Philadelphia who has been researching opioid addiction law for a decade, told the Kentucky Enquirer this week that "The whole idea is that we're trying to make the drug more available" so that loved ones can legally obtain doses of naloxone to administer to opioid-addicted friends and family members.
With the FDA's approval of Evzio, Burris may soon see his wish come true.
In Thursday's statement, the federal agency said that the decision to approve Evzio "provides an important new tool in our arsenal to more effectively combat the devastating effects of opioid overdose."
The FDA says the review of Evzio was granted priority status and approved of in just 15 weeks. It is manufactured by kaléo, Inc., of Richmond, Virginia.