High-ranked DEA agent quits job to work for legal marijuana industry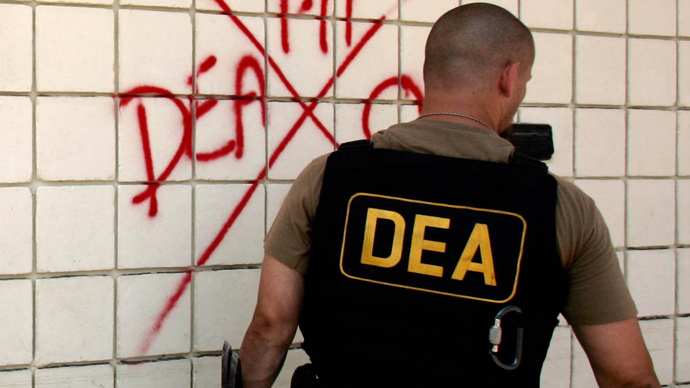 The chief of operations at the United States Drug Enforcement Agency said only last week that increased efforts as of late to legalize marijuana across the country is scaring his fellow officials at the DEA. Others, however, have a much different take.
Just last Wednesday, the DEA's James L. Capra told members of the Senate that the emerging pro-pot trend is "reckless," "irresponsible" and "scares us."
Former DEA agent Patrick Moen isn't in the same boat. After over a decade of working with the federal government to put away drug dealers, Moen recently abandoned his job at the DEA in order to pursue a career with Privateer Holdings, a Seattle, Washington-based investment firm that specializes in the budding marijuana industry.
Since 2010, Privateer has been putting money into the hands of start-ups that are looking to work their way up in the legal weed business. Moen just recently left the DEA after more than 10 years, and since November has been Privateer's managing director of compliance and their senior counsel.
"I saw this as an amazing opportunity to be a part of the team that's helping to create this industry," Moen, 36, told Reuters. "I don't really feel like it's the other side."
Maybe Moen's right, but there's no doubt it's something at least a little different for the long-time cop. According to his LinkedIn profile, he spent five-and-a-half years working as a law enforcement officer around Buffalo, New York, and then signed on for what became a decade as a DEA under the Department of Justice starting in 2003. Before calling it quits, he had managed to hold high-positioned jobs in both Washington and Oregon supervising teams of drug enforcement agents.
"Over the course of years I realized that the targeting of marijuana was not an effective use of resources. There was no 'aha' moment. It was a steady evolution involving discussions with friends and colleagues," he told the Seattle Times last month.
Then, Moen told the paper, "the general dysfunction of the federal government" helped him consider new career options.
Speaking to the Wall Street Journal, he suggested that the expanding legal weed business in the US is on track to becoming an all too important industry.
"The potential social and financial returns are enormous," he told WSJ last month. "The attitudes toward cannabis are shifting rapidly."
Indeed, the national discussion with regards to weed has changed drastically in just the five weeks since word of Moen's career change started to spur headlines. In the month between reports of his Privateer gig first surfacing and Reuters' article on Monday this week, marijuana became completely legal for adults in the state of Colorado to purchase for recreational use. Revenues in the first few days beat expectations by several times over, and hundreds of millions of dollars are expected to be raised during the next year. Washington state will soon follow Colorado's lead, and Moen and his colleagues at Privateer will have a whole new locale to tap.
According to the WSJ, Privateer raised $7 million as of last month and was looking to bring in another $25 million during 2015. Investors are obligated to initial commitments of no less than $250,000, and eventually the firm uses this capital to back cannabis-centric projects, like the website Leafy.com.
But on the heels of legalization efforts in those two states, other jurisdictions across the country are coming to terms with what could soon be a widespread phenomenon in America: totally legal, recreational pot.
The results of a CNN/ORC International survey published earlier this month found that 55 percent of those questioned across the US favor marijuana legalization, and this past weekend US President Barack Obama offered the closing thing yet to an endorsement.
"As has been well documented, I smoked pot as a kid, and I view it as a bad habit and a vice, not very different from the cigarettes that I smoked as a young person up through a big chunk of my adult life. I don't think it is more dangerous than alcohol," he told the New Yorker.
Other federal officials — or former ones, at least — are starting to speak up too about the long-lasting pot prohibition. Paul Schmidt was the highest-ranking DEA agent in all of Oregon state until 2010, but now works as a medical marijuana business consultant.
"A lot of people say, 'How could you be so against it Monday and then on Tuesday you are all for it?" Schmidt said to Oregon Live recently.
"It was the least of the evils," he said. "If you go to the newer law enforcement – somewhere 45 years and younger – and you talk to them about cannabis, they are just like, 'Man, why isn't it legal? I have got other things to do.'"
At this rate, that could soon be the consensus across the board. Washington, DC moved forward earlier this month with a measure that would decriminalize marijuana in the nation's capital, and medical weed is currently legal in nearly half of the US.
You can share this story on social media: