FBI continues Petraeus investigation, interviews ex-CIA director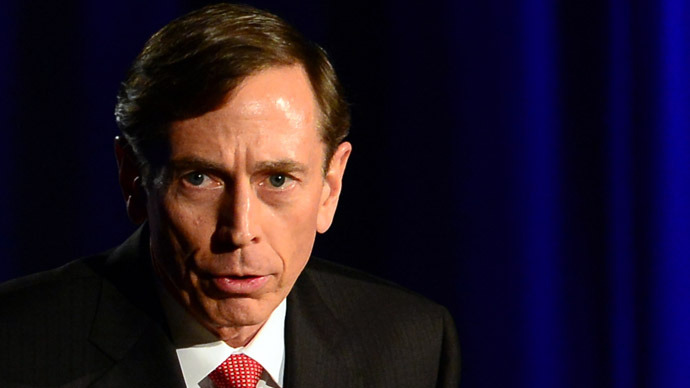 Two FBI agents have allegedly interviewed former CIA director David Petraeus at his home, as part of an ongoing investigation into the extramarital affair he had with his biographer, Paula Broadwell.
FBI agents on Friday showed up at Petraeus' house in Arlington, Virginia, to conduct an interview to further determine whether or not he had given his biographer classified information or kept such documents in an 'unauthorized place', according to a USA TODAY report based on information from two unnamed government officials.
Jacqueline Macguire, an FBI spokeswoman, confirmed that agents "conducted law enforcement activity" in northern Virginia on Friday, but did not confirm or deny that this activity occurred at the home of Petraeus, the paper reports. But one of the unnamed federal law enforcement officials said the agents appeared at the former CIA director's home as part of an investigation that would take a long time to complete.
Previously, Petraeus has told federal investigators that he did not share any classified information with Broadwell. After news of their affair became publicly known in November, federal officials feared that his mistress knew more than she admitted, and launched an investigation to see what she had access to as a result of her romantic involvement with the former CIA director.  Investigators found that Broadwell had accessed a private Gmail account belonging to Petraeus, but later discovered that Petraeus intentionally shared an account with her to share messages saved in the 'Drafts' folder.
Early on in the investigation, agents worried that Broadwell may have had access to classified Pentagon files with information about the Benghazi assault. FBI agents confiscated the woman's computer and other belongings, but failed to find evidence of secret information.
The investigation continues to progress, since officials are required to thoroughly check all material and online documents for classified information. Officials are also verifying whether some of the documents might have been classified at the time they were received by Broadwell, even if they are currently declassified.
News of the ongoing investigation has served as a reminder of the Petraeus scandal at a time when he has been trying to keep a low profile.
Last Tuesday, Petraeus publicly apologized for his behavior during a speech in front of veterans at the University of Southern California's annual ROTC dinner, marking a rare appearance since he resigned from the CIA.
"I join you keenly aware that I am regarded in a different light now than I was a year ago," he said. "I am also keenly aware that the reason for my recent journey was my own doing. So please allow me to begin my remarks this evening by reiterating how deeply I regret – and apologize for – the circumstances that led me to resign from the CIA and caused such pain for my family, friends and supporters."
Petraeus has previously admitted guilt of "extremely poor judgment" as a husband and a leader, but maintains that he never shared classified information with his mistress. And as the investigation into the woman's access continues, the FBI has also launched another probe to determine if the former CIA director used government resources to further his affair.