Petraeus denies giving up classified information to mistress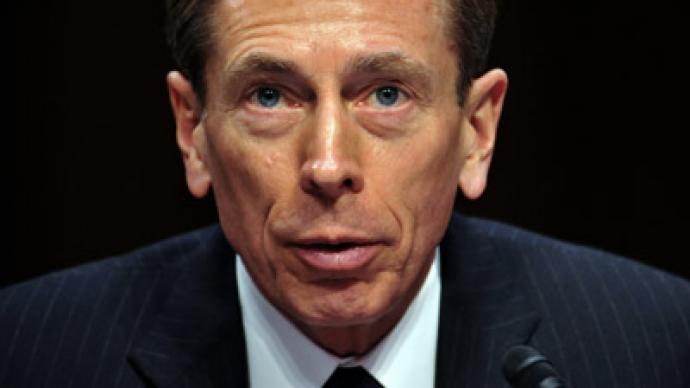 Disgraced Army Gen. David Petraeus maintains that he did not hand over any classified information to mistress Paul Broadwell, according to a journalist who has reached out to the former CIA head in the days since his resignation.
Kyra Phillips of CNN's HLN network says she has spoken with Gen. Petraeus since he went public about his extramarital affair on Friday last week and that the now resigned chief of the Central Intelligence Agency insists he "has never passed classified information to Paula Broadwell.""He said this has nothing to do with Benghazi, and he wants to testify," Phillips relayed to CNN in an interview where she recalled her recent talks with Gen. Petraeus. "He will testify," she said.On Thursday, Gen. Petraeus was expected to be in Washington, DC to speak before a Congressional hearing about the September 11, 2012 terrorist attack on a US consulate building in Benghazi, Libya. The details of the incident have been shrouded in elusiveness in the weeks since the tragedy occurred, a matter that has only been impacted further following the CIA chief's unexpected resignation last week. In the days after he stepped down, an addressed given by Broadwell in October surfaced online in which she made comments suggesting she may know more about the Benghazi assault than the Pentagon had admitted to. "Now I don't know if a lot of you heard this, but the CIA annex had actually had taken a couple of Libya militia members prisoner," Broadwell told a crowd at the University of Denver alumni symposium on October 26. "And they think that the attack on the consulate was an effort to try to get these prisoners back. So that's still being vetted."The CIA has since rejected those comments, but Gen. Petraeus is expected nonetheless to be quizzed on that item on others this week on the Hill. Early on in the FBI's investigation of the affair, weeks before it became public, Broadwell voluntarily supplied authorities with a personal computer that was determined to have classified Pentagon files on it. A preliminary probe revealed that there was no security breach, but the FBI has since taken into possession other belongings of Broadwell's as it tries to ensure that no intelligence was compromised."The issue of national security is still on the table," one US law enforcement official speaking on condition of anonymity tells the Washington Post this week.Even before Phillips' statements this week, both Gen. Petraeus and Broadwell denied that the former CIA chief was responsible for supplying her with the files, sources told the Post. Broadwell previously had been given a high-security clearance as a member of the Army's military intelligence division, although it has since been revoked.
You can share this story on social media: