US fast-food workers stage nationwide strike over low wages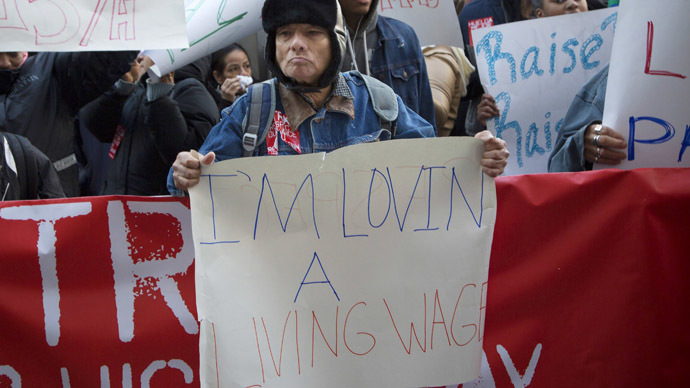 Thousands of fast-food employees are set to organize walkout strikes across the US on Thursday, demanding that restaurant chains such as McDonald's, Taco Bell and Wendy's double their pay.
Workers insist that the corporations should pay them $15 an hour, the equivalent of about $31,000 a year for full-time employees. The minimal federal salary is $15,000 a year, with most fast-food workers getting only the legal minimum of $7.25 an hour, AP reported.

Thursday's walkout is set to become the largest strike staged by fast-food workers, organizers say. So far, the record was 2,200 people in the summer, protesting in seven cities across the US.

Last November, a series of walkouts by fast-food workers started in New York, spreading across the nation to Chicago, Detroit and Seattle.

Martin Rafanan, a community organizer in St. Louis, Missouri, said that if the situation doesn't improve the corporations who employ low-paid workers will "pull all the blood, sweat, tears and money" out of local communities.

"If you're paying $7.25 an hour and employing someone for 20, 25 hours a week, which is the average here, they're bringing home about $10,000 a year. You can't survive on that," Reuters reported Rafanan as saying.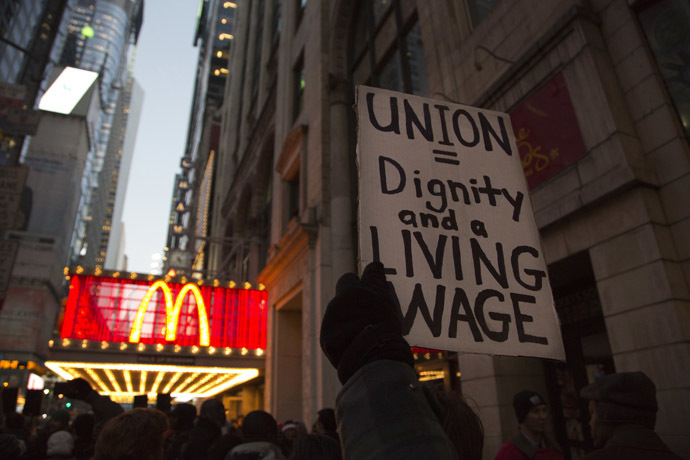 However, the National Restaurant Association, the trade group for US restaurants and fast-food chains, said the problem was exaggerated.

"Only 5 percent of restaurant employees earn the minimum wage, and those that do are predominantly working part-time and half are teenagers," Scott DeFife, the organization's executive vice president for policy and government affairs, told Reuters.

The National Employment Law Project, a group campaigning for an end of low pay, estimates the current median wage for fast-food workers at $8.94 per hour, according to official data. Nearly all jobs in fast-food restaurants are non-union, and the group says workers often face retaliation from employers for taking part in strikes, Reuters reported.

The wave of protests comes at the same time as President Barack Obama's government is mulling an increase of the federal minimal wave to $9 an hour, much less than demanded by the strikers.

So far, the main problem of the protest movement was low awareness of the events, with the turnout for the past strikes being relatively low in some cities.

In response to the movement's demands, McDonald's said in a statement that pay for its workers starts at minimum wage but the range goes higher, depending on the employee's position and experience. If the salary was higher, menu prices would go up as well, the company said.

"That would potentially have a negative impact on employment and business growth in our restaurants, as well as value for our customers," McDonald's said.

Wendy's and Yum Brands, which owns KFC, Pizza Hut and Taco Bell, did not respond to AP's request for comment.