Hundreds of New York fast food workers protest for better pay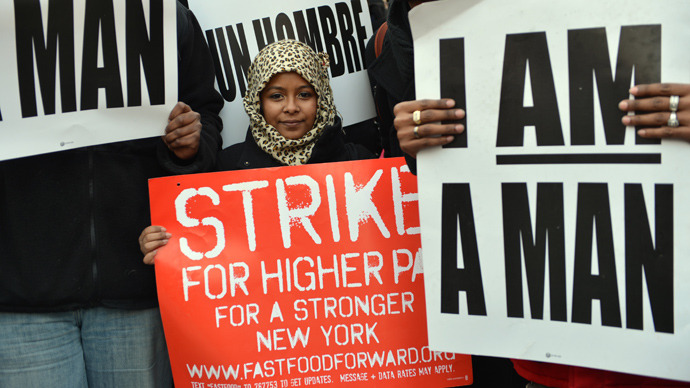 Hundreds of New York City fast food workers and their supporters gathered outside restaurants on Thursday, chanting "Hey, hey! Ho, ho! Minimum wage has got to go!" in a plea to corporations to raise their pay from the statewide average of $8.25 per hour.
The picket lines, which were organized by a coalition of unions and community groups, were similar to another protest put together in November 2012. According to The New York Times, groups supporting the action included Fast Food Forward, New York Communities for Change, UnitedNY.org, the Black Institute, the Service Employees International Union and local clergy.
"My community in Flatbush is filled with fast-food workers who have been suffering due to low wages, no sick days and unsafe working conditions," said the Reverend Cheri Kroon, speaking to the Times.
Many of those in attendance, such as AFL-CIO national president Richard Trumka, were also advocating for union representation.
"They're being mistreated, they're being underpaid, they're going to stand together until they get fair treatment and we're going to stand with them," said Trumka.
Linda Archer, a local McDonald's employee who spoke to the AP, says she is currently only making $8 an hour - after three years with the company. Demonstrators were looking for an increase to $15 per hour, which would be almost double the current average pay for the state of New York.
"I'm asking for respect, I'm asking for $15, I'm asking for a union, I'm asking for job security," said Archer.
The state's minimum wage is currently set at $7.25, and its legislature recently voted to increase it to $9 - though that change will not take effect until 2016.
The date for the protest was also not a coincidence. According to attendees and organizers, the Thursday strike was meant to coincide with the 45th anniversary of Dr. Martin Luther King Jr.'s assassination, which took place during a sanitation workers' strike in Memphis.
Jonathan Westin, executive director of New York Communities for Change, likened the demonstration to King's own goals.
"We believe that it's a continuation of a civil rights fight against low wages and for Martin Luther King's movement to win dignity and living-wage jobs," said Westin, as quoted by UPI.
Several picketers were seen wearing signs that read "I am a man" or "I am a woman," echoing placards carried by protesters in Memphis in 1968.


You can share this story on social media: