Chicago low-wage workers go on strike
Published time: 25 Apr, 2013 20:32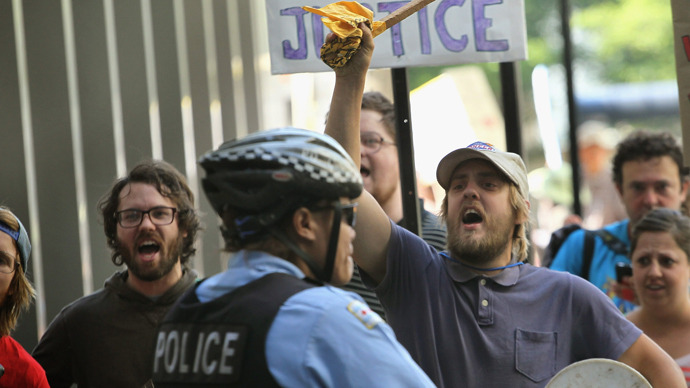 Hundreds of low-wage Chicago workers walked off their jobs on Wednesday to join a daylong strike demanding an increased hourly wage and a fair chance to form a union.
Employees from retail and food services abandoned their shifts to march in the Chicago Loop, demanding an hourly minimum of $15 and the right to unionize without intimidation.
"They say we're low-skilled workers, but we're helping generate billions of dollars in profits," Chris Thomas, a Nike store employee, told the Huffington Post. "We're not trying to get rich. We just want fair pay for our hard labor."
Employees earning Chicago's minimum wage of $8.25 per hour say they struggle to pay their bills, feed their families, or pay their rent.  Many full-time workers have been forced to seek out poverty assistance, such as food stamps and rental assistance.
Wednesday's rally in downtown Chicago was an attempt to bring attention to the men and women who struggle to get by in low-paying industries. Low-wage work accounts for more than half of the country's new jobs created since the recession, while upper-and middle class jobs have declined.
Meanwhile, corporations, shareholders and executives have seen their profits rise, while wages remain the same for low-skilled workers.
Although Thomas, 25, has worked for Nike for years, he only makes $10 per hour and can't afford to move out of his parents' home. He says the atmosphere in the Nike store he works at creates a false impression of the life Americans face in Chicago.
"Tourists come into our store from all around the world, and they see this exterior: it looks so glamorous," he said. "The management creates a relaxed atmosphere. We come to work in shorts and running shoes. But things just ain't what they seem. It's really hard in Chicago."
Some business were forced to close down on Wednesday, due to staff shortages as a result of the strike. Organizers of the group Action Now said strikers included employees of McDonald's, Subway, Sears, Dunkin Donuts, Victoria's Secret and Macy's.
The "Fight for $15" campaign played a major role in organizing the rally and encouraged attendees to demand a higher minimum wage and the right to unionize.
"Fight for $15 seeks to put money back in the pockets of the 275,000 men and women who work hard in the city's fast-food and retail outlets but still can't afford basic necessities,"  the group wrote in a press release. "If workers were paid more, they'd spend more, helping to get Chicago's economy moving again."
Wednesday's strike closely mirrors the strike that occurred in New York City on April 4, when about 400 restaurant workers walked off their jobs and demanded a $15 hourly minimum. New York's minimum wage is $7.25 an hour, which is a dollar less than that in Illinois.
"They don't even appreciate the work that I do," Chicago-based Dunkin Donuts worker Esly Hernandez told MSNBC, referring to his employers. "They don't even say thank you. They treat you like you're a robot."